Best 10 Vet Telemedicine Software and Mobile Apps
The demand for veterinary telehealth has increased lately due to the demand for digital communication and the need to retain clients and staff during the pandemic.
Telemedicine in veterinary medicine presents not only opportunities but also challenges. Some states, such as California, are still not VCPR compliant, which creates problems for veterinarians who want to address their clients' needs during these challenging times. When doctors can touch base with their clients without a need to be physically present in the clinic with their pet, it increases loyalty. It also provides an opportunity to resolve minor issues before they become major ones.
There are numerous helpful apps out there that help veterinarians shift to telemedicine as smoothly as possible. We prepared a list with the best software and apps that both veterinarians and pet parents enjoy. Dive into the world of the veterinary telemedicine market with us.
Veterinary Telemedicine App
Android
iOS
Rating
Update
Rating
Update
Activ4Pets
3.2
Jun 24, 2020
4.3
Dec 31, 2020
AirVet
4.6 (Airvet: Vet On Demand);
– (Airvet Doctor)
Dec 16, 2020 (Airvet: Vet On Demand);
Dec 16, 2020 (Airvet Doctor)
4.9 (Airvet: Vet On Demand);
4.5 (Airvet Doctor)
Dec 18, 2020 (Airvet: Vet On Demand);
Dec 18, 2020 (Airvet Doctor)
Anipanion
4.1
Dec 4, 2020
4.4
Dec 23, 2020
Ask.Vet
–
–
–
–
GuardianVets
–
Dec 4, 2020 (GuardianVets);
Nov 26, 2020 (GuardianVets-DVM)
5.0 (GuardianVets);
5.0 (GuardianVets-DVM)
Dec 22, 2020 (GuardianVets);
Dec 22, 2020 (GuardianVets-DVM)
Medici
3.9 (Medici for Patients);
4.5 (Medici: Video chat & message patients securely)
Dec 8, 2020 (Medici for Patients);
Dec 8, 2020 (Medici: Video chat & message patients securely)
4.2 (Medici: Telehealth messaging);
4.0 (Medici: Text Your Doctors, Vet)
Dec 8, 2020 (Medici: Telehealth messaging);
Dec 8, 2020 (Medici: Text Your Doctors, Vet)
PetCoach
3.4
Dec 4, 2020
4.6
Dec 30, 2020
PetDesk
4.8
Nov 19, 2020
4.8
Nov 14, 2020
PetsApp
4.9
Jan 5, 2021
4.9
Jan 6, 2021
Vetstoria
–
–
–
–
Activ4Pets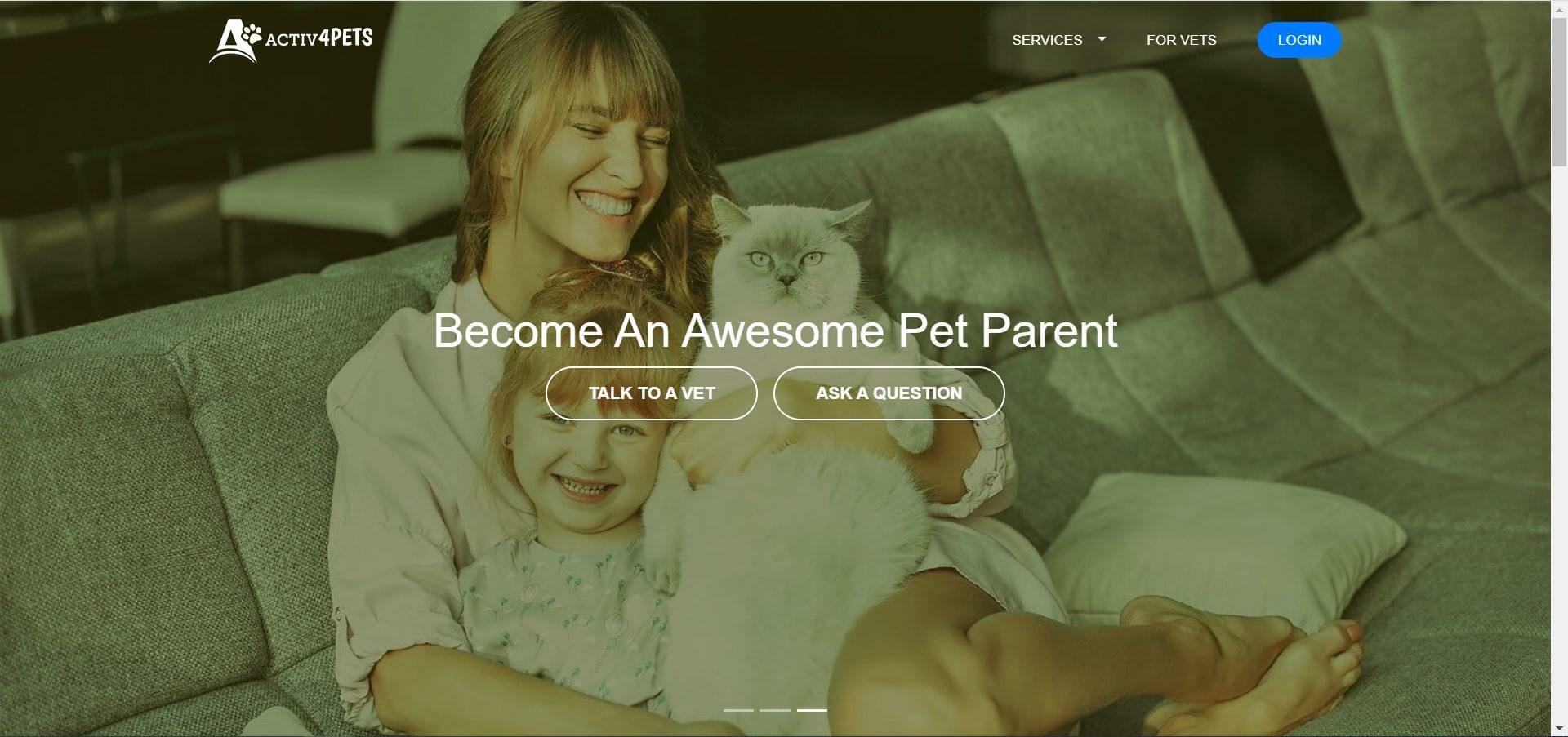 For Veterinarians:
As a veterinarian, you have two options with Active4Pets; either become an A4P Vet, or partner relief vet. You are qualified to provide consultations and opinions, based on your availability. To become a member, you need to undergo a simple login process, where you need to request an appointment time and make payment upfront. After that, you join the appointment and a scheduled time via the platform. If you would like to get some offline work, you can become a relief vet and fill open slots.
For Pet Parents:
Active4Pets platform provides the following services — vet appointments and e-consultation. Pet owners can schedule an appointment if they need a consultation in non-emergency situations. If they just need a quick answer to a question regarding their pet, the platform has "Talk to a Vet Option." This is an online chat option with an experienced professional, available day or night, free of charge. Once pet parents undergo a simple registration process, the platform connects them to a vet to provide a high-level consultation over the video chat. Vet House Pet Option is another great idea to save time and reduce stress by visiting a doctor — the doctor will come directly to the house. There is an option to buy a membership package that will ensure visits regularly.
Website: https://www.activ4pets.com/
Available at: App Store, Google Play
AirVet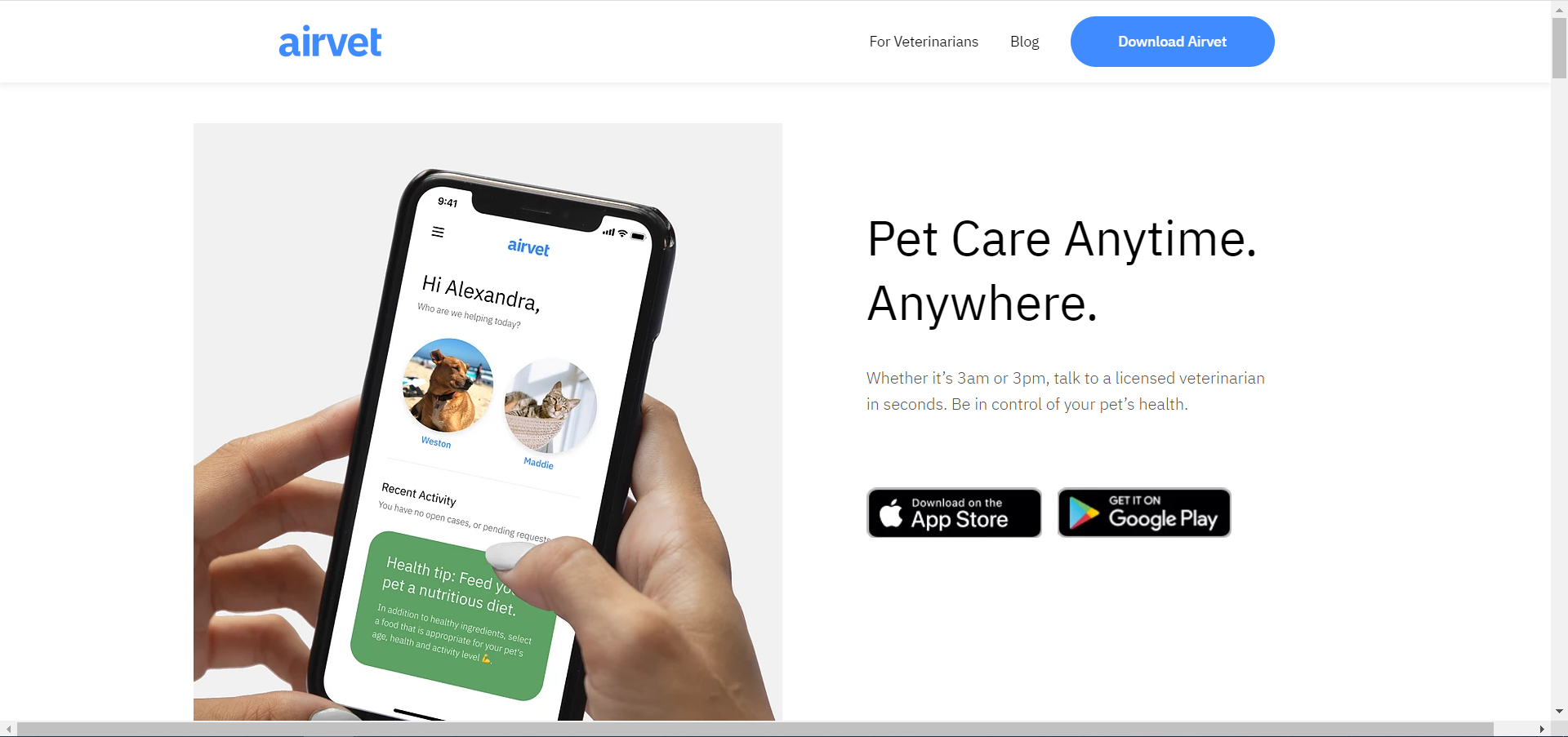 For Veterinarians:
AirVet is an application created by vets to strengthen the bond between doctors and their patients. With this app, pet parents receive access to immediate medical advice without taxing. AirVet fits into your workflow so you can create your own schedule. It also has a built-in triage support system. If you're unavailable, a network of vets will cover for you and answer your clients' questions.
For Pet Parents:
AirVet is an app that connects clients with veterinarians from anywhere online. Pet owners can use the app for general medical concerns, behavioral questions, and follow-ups. If they are unsure whether the pet needs a doctor's visit in person, AirVet can also help. If pet parents have any issues while scheduling an appointment, the app provides support via chat.
Website: https://www.airvet.com/
Available at: Apple Store (Airvet: Vet On Demand, Airvet Doctor), Google PlayStore (Airvet: Vet On Demand, Airvet Doctor)
Anipanion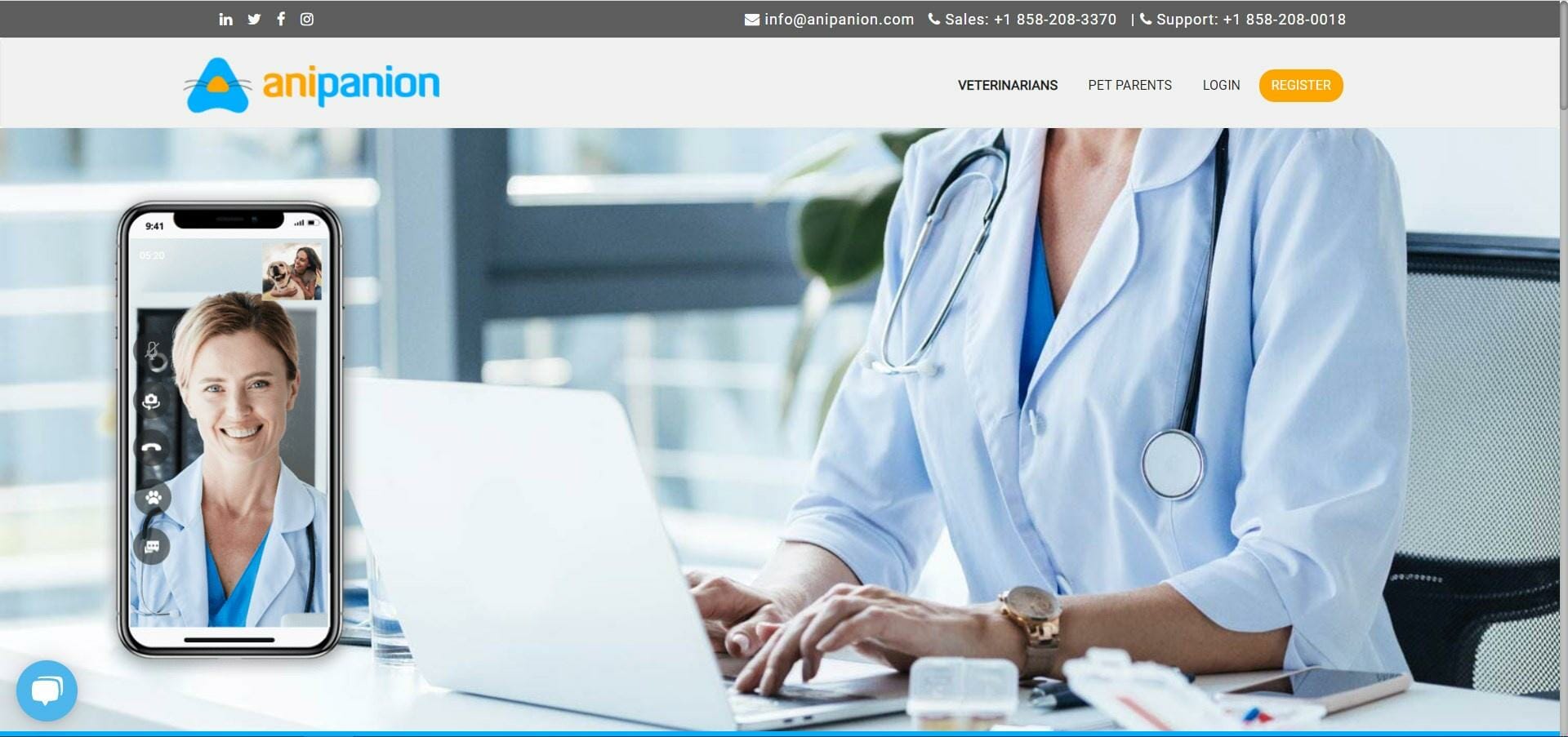 For Veterinarians:
Anipanion will help provide the best possible online experience for the clients by continually interacting with them. It also offers live chat support. You can use the veterinary telemedicine platform for situations such as surgery rechecks, drop-off visits, and triage cases. All you need is to choose when you are available, and the app will connect you with patients.
For Pet Parents:
Aside from behavioral questions, video calls will be great for consultation regarding dietary issues, eye or skin issues, coughing/sneezing, and post-surgery rechecks. Booking an appointment is as easy; a pet parent needs to download an app and follow a few easy steps. If they have general questions, they can find answers in the FAQ section.
Website: https://www.anipanion.com/
Available at: App Store, Google Play
Ask.Vet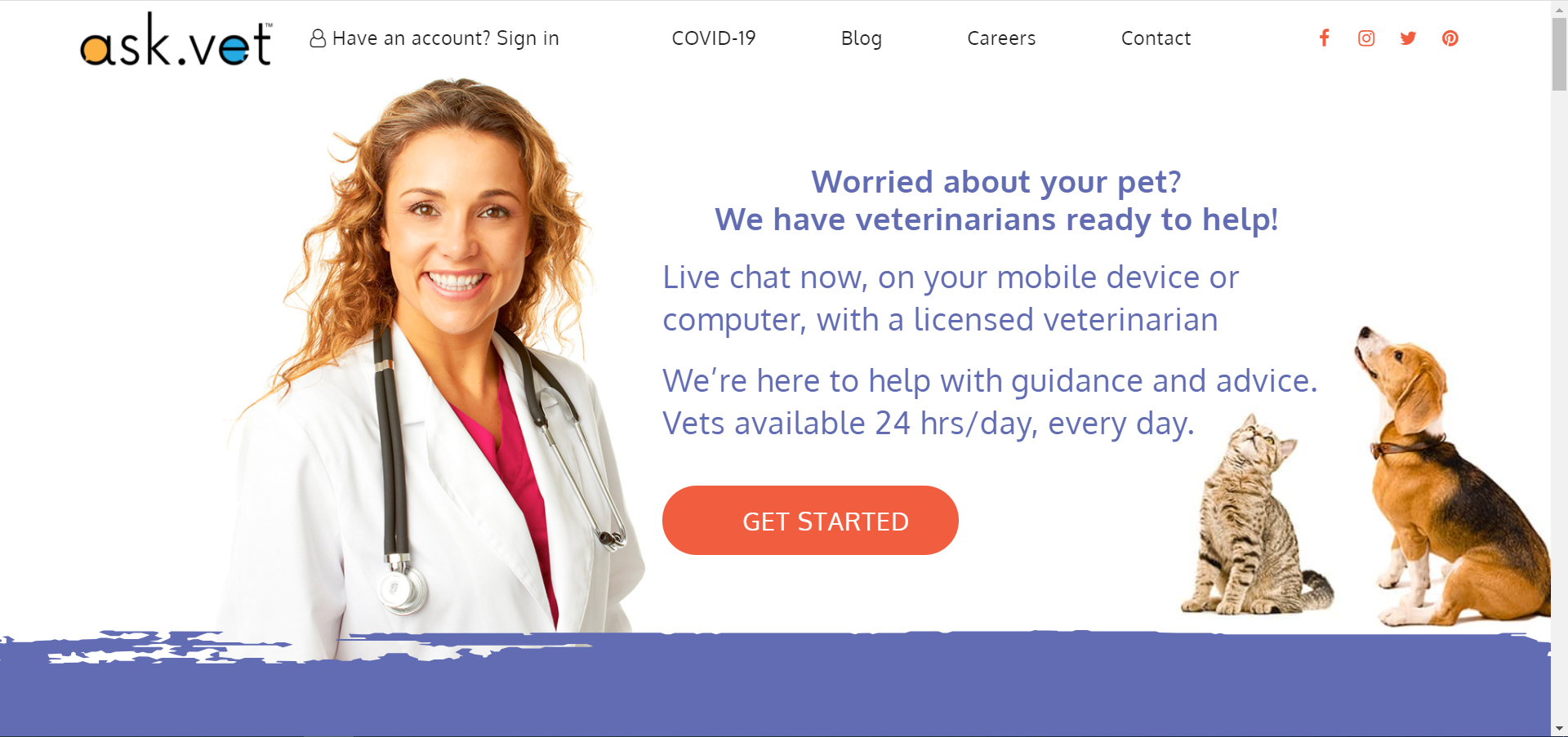 For Veterinarians:
One option of this platform is to become a veterinary consultant. If you embrace forward-thinking technology and are passionate about helping others, you would be a perfect fit. If you are thinking of becoming a part of their team and helping patients, apply online. Please note that they only support consultation via chat. You can join the chat with a mobile device or computer. The usual length of a session is 15-20 minutes. During this time, you can provide a client with advice.
For Pet Parents:
Ask.Vet is a great opportunity for vet owners who need to determine the seriousness of their pets' problems and get advice on when they need to see a veterinarian in person. An application provides live chat with a licensed veterinarian (There is no video chat).
Website: https://askvet.app/
GuardianVets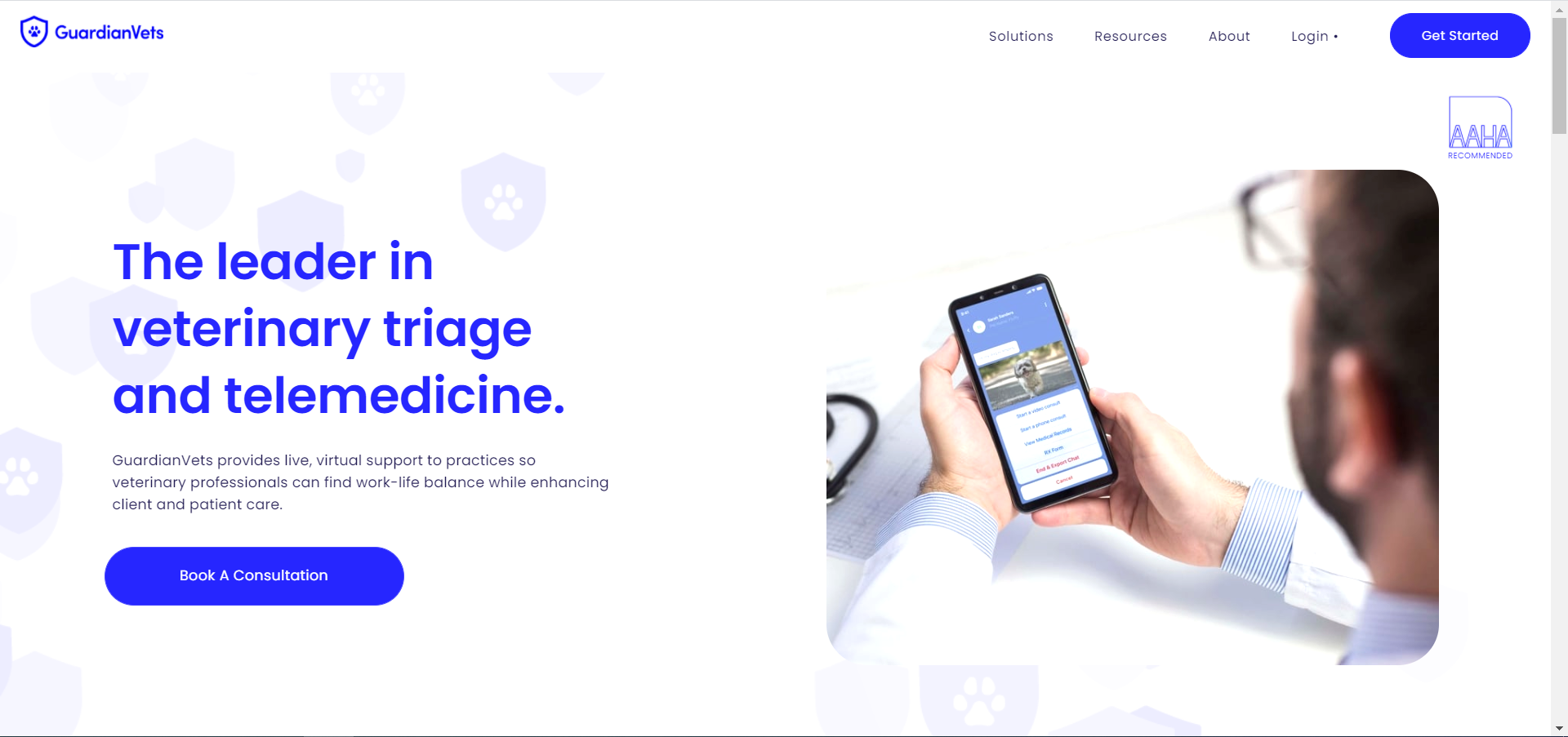 For Veterinarians:
GuardianVets allows you to conduct a virtual telemedicine consultation and easily monetize your time. You can integrate telemedicine into your workflow, and either go with the schedule of availability or accept on-demand appointments. All veterinarians set their own prices. You can also join the two-way chat and consult clients through your custom mobile app. Your clients can text, SMS, and video-chat with you. You can document conversations, record calls, and manage your hospital communication.
Website: https://www.guardianvets.com/
Available at: App Store (GuardianVets, GuardianVets DVM), Google Play (GuardianVets, GuardianVets DVM)
Medici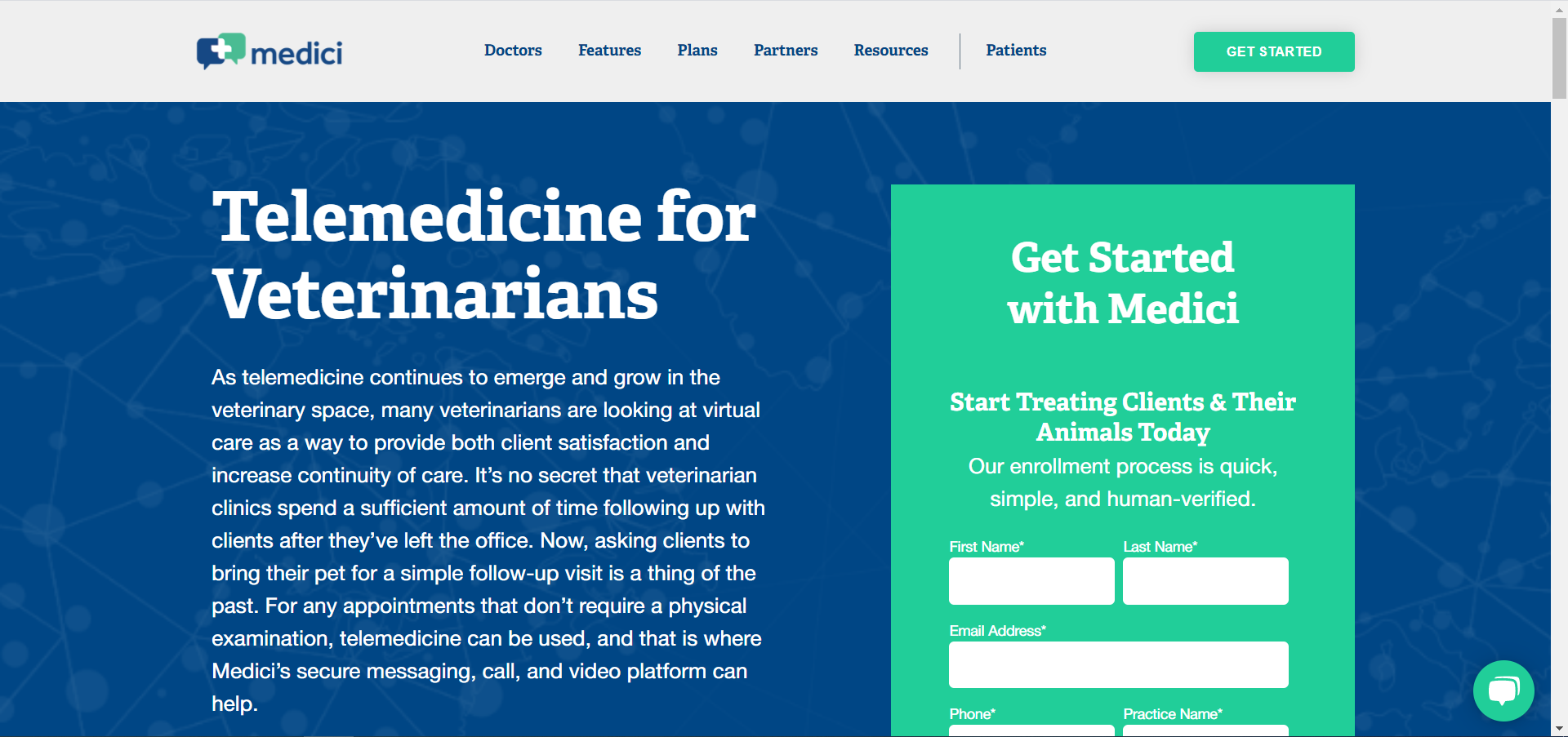 For Veterinarians:
Medici offers modern telehealth opportunities, that can help you to grow your practice and retain more clients. This application seamlessly integrates with your practice. You will get paid in-app and will be able to set your rate. If you would like to use the platform for scheduling  appointments with your patients, the app provides the following features:
Text, call, and video chat with clients
Receive uploaded images of pets
Stay VCPR-compliant
Streamline payment processing
For Pet Parents:
This platform promises to deliver convenient healthcare and clients can decide whether they want to schedule an appointment after they see the doctor's rate. The Medici service can become a reliable alternative for pet owners as it does not require insurance. Additionally, the consult is less expensive than the average insurance premium.
Website: https://www.medici.md/
Available at: App Store (Medici: Telehealth messaging, Medici: Text Your Doctors, Vet), Google Play (Medici for Patients, Medici: Video chat & message patients securely)
PetCoach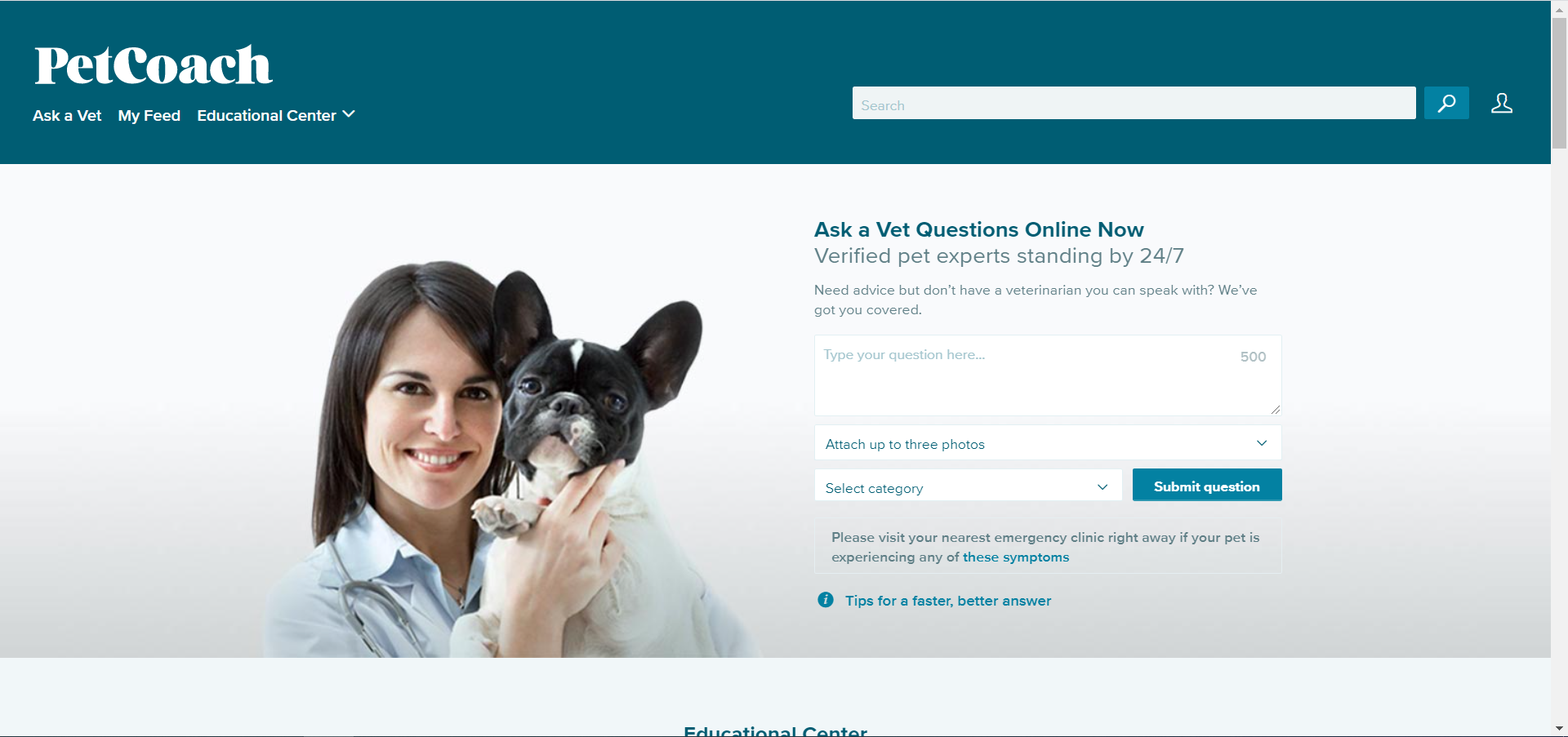 For Veterinarians:
PetCoach encourages veterinarians to to start getting paid for online consultations. You can connect with thousands of pet owners who are looking for advice. Joining PetCoach is also an opportunity to grow your practice, as you will be exposed to a substantial number  of pet owners and some of them may be in your area.
For Pet Parents:
PetCoach is a reliable solution when pet owners need quick assistance but do not have a veterinarian they can speak to. They can just type the question on the website and attach up to three photos. Pet parents can also search among 400,000 answered questions and articles before posting a question.
Website: https://www.petcoach.co/
Available at: App Store, Google Play
PetDesk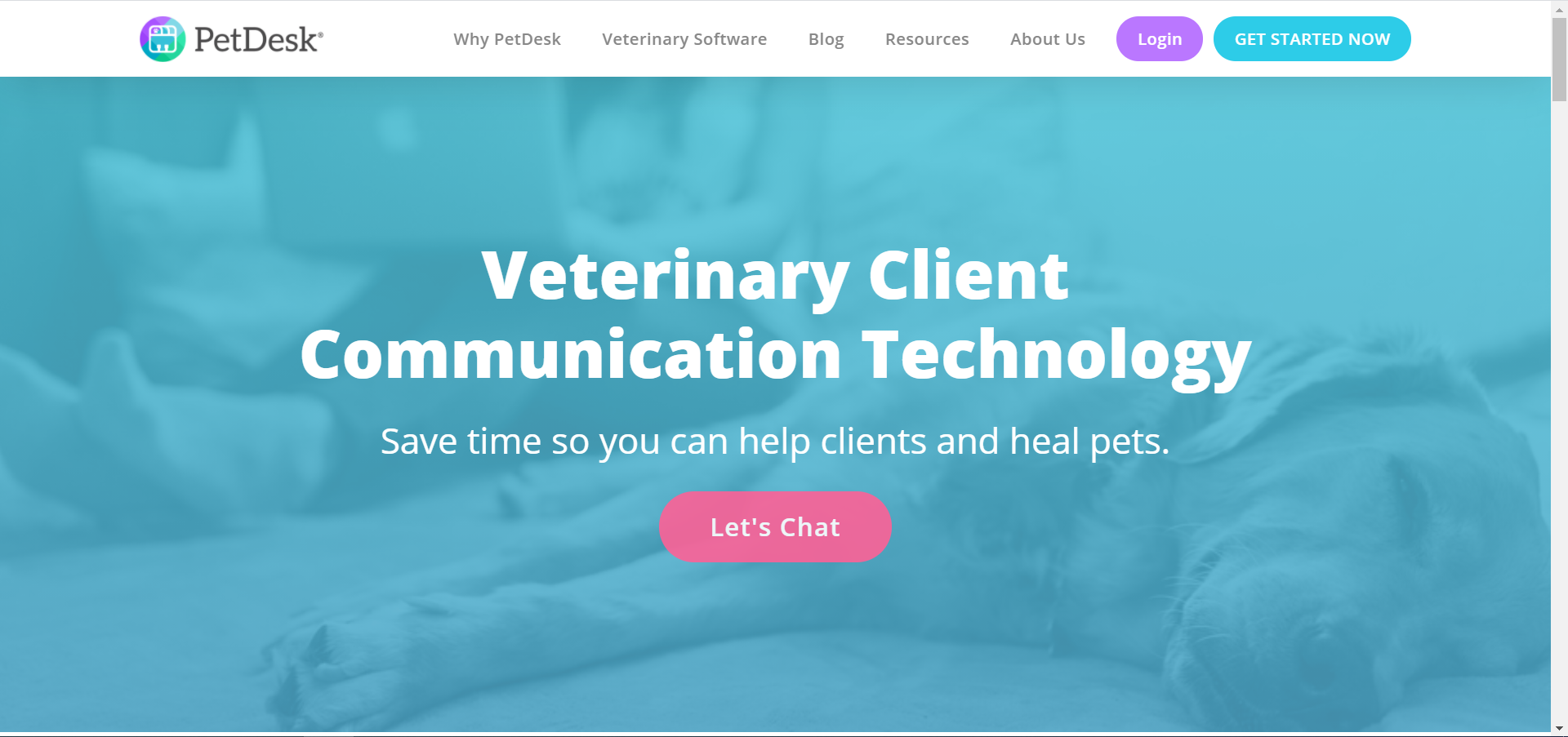 For Veterinarians:
PetDesk integrates into your existing workflow. It offers a live video chat within the same platform you can use for messaging. The video chat feature brings doctors and clients together, so you can provide the advice pet owners need at the moment. You can also learn more about telemedicine benefits by taking quizzes and reading articles.
For Pet Parents:
Clients can easily access vaccination dates and annual check-up exams, which improves compliance.
Website: https://petdesk.com/
Available at: App Store, Google Play
PetsApp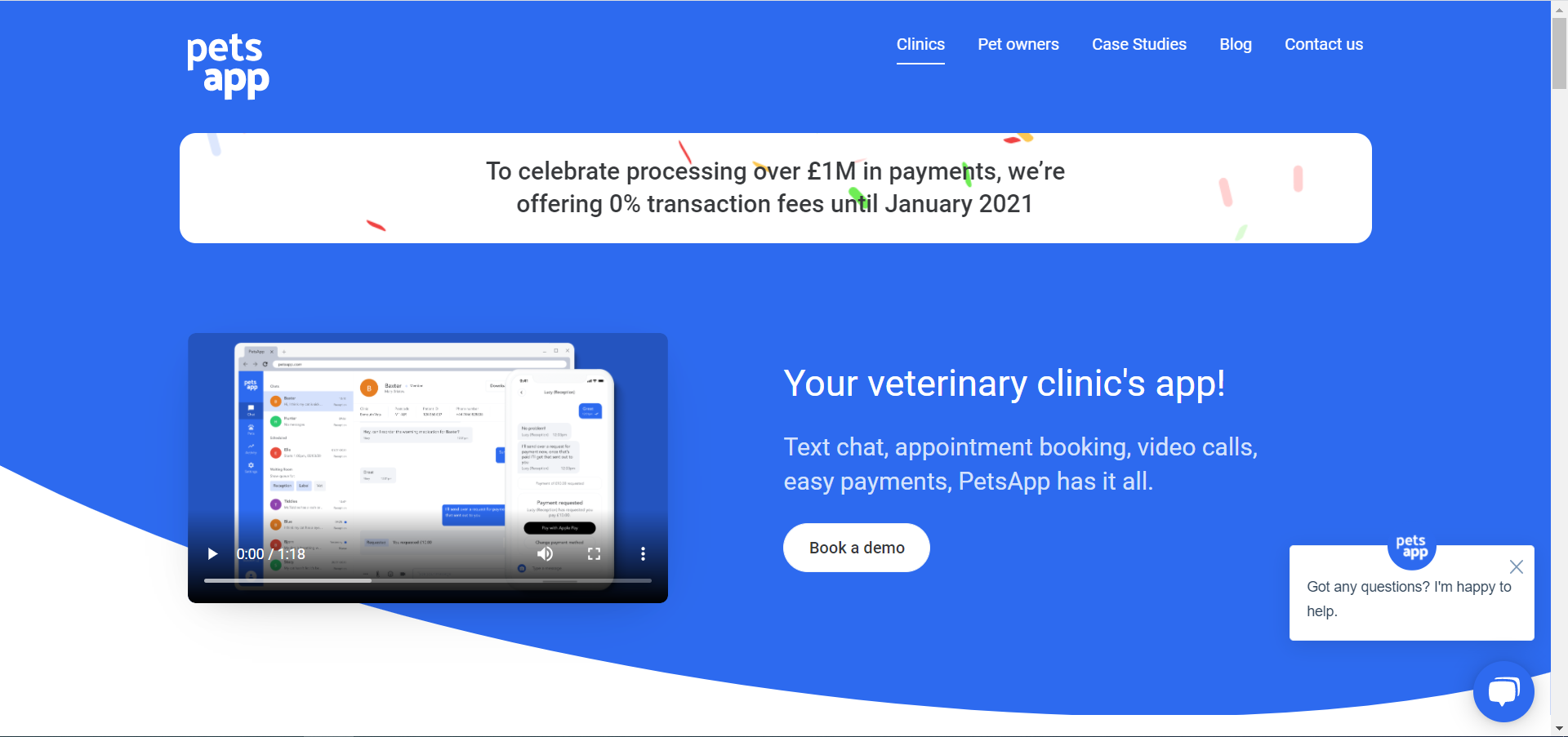 For Veterinarians:
PetsApp in the number-one-rated veterinary app. It provides various solutions for the clinic; one of them is telemedicine services. The platform provides unlimited access to video calls, which will help you stay in touch with your clients. One of the benefits PetApp provides is an in-app payment system, which means you will receive all payments electronically. You can book a demo to check how this app works and whether it will become your perfect veterinary telemedicine partner.
For Pet Parents:
PetsApp aims to give a stress-free experience to clients by giving them the ability to have an appointment with you without leaving home. Other than booking appointments, pet parents can order medications and get personalized care advice via chat.
Website: https://petsapp.com/
Available at: AppStore, Google Pay
Vetstoria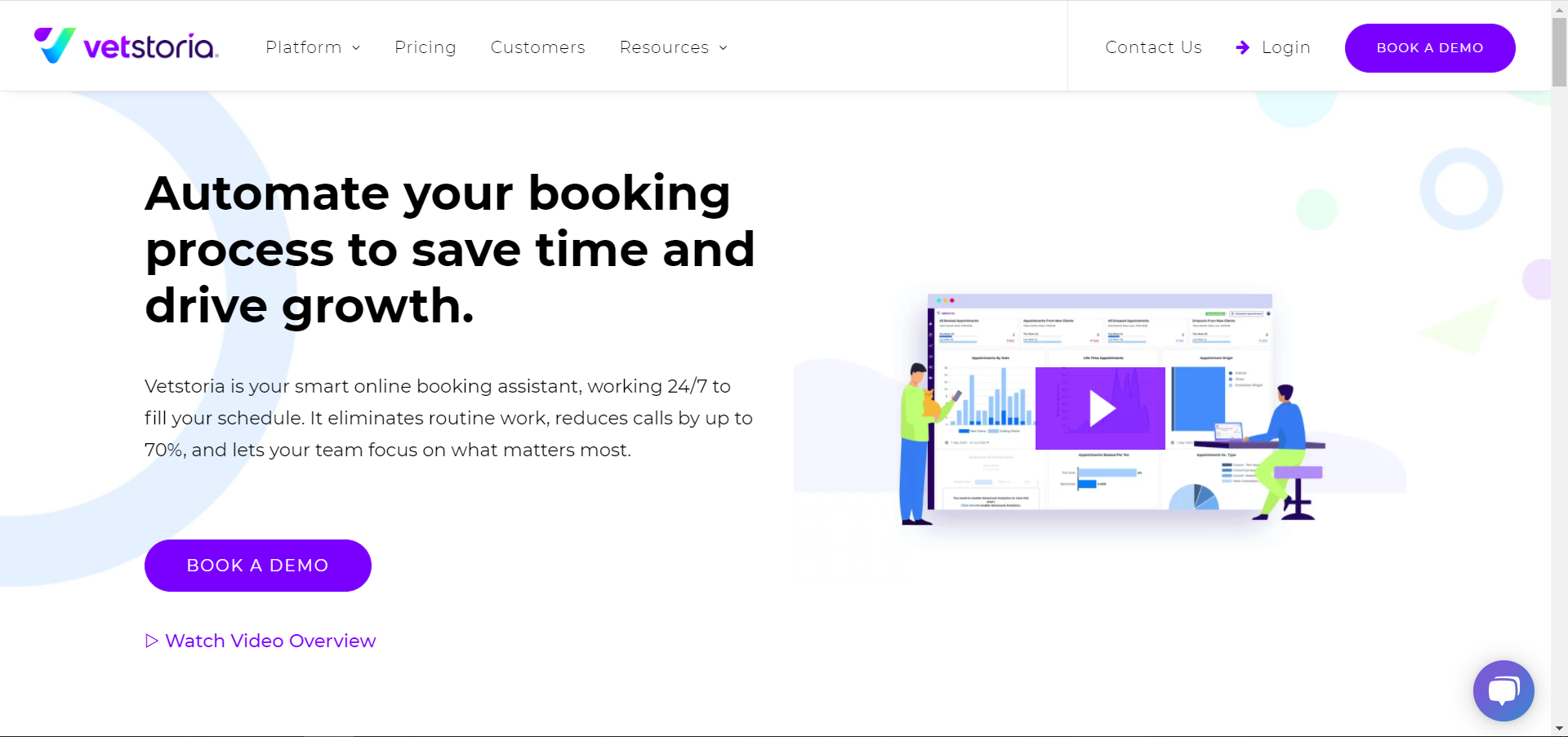 For Veterinarians:
Vetstoria offers a comprehensive, fully-integrated telemedicine solution as part of its real-time appointment booking platform. It integrates into your existing workflow, offering live video chat in your browser without the need for additional downloads or apps. It also provides the additional benefit of connecting with your practice management software to display real-time availability of telemedicine appointments to pet parents and sync booked appointments back into your schedule.
For Pet Parents:
With Vetstoria, pet parents can easily access telemedicine appointment availability via your website, Google, or social media channels, paying and booking in real-time. Appointments are then confirmed instantly with a unique booking link provided. At the appointment time, pet parents simply join the session on any device, without needing to download apps.
Website: https://www.vetstoria.com/
Conclusion
As you can see, veterinary telemedicine can be a robust tool for your professional life.
With a wide variety of communication tools, you can establish the workflow that fits your busy schedule and supports patients from anywhere anytime. Legislation and implementation of vet telemedicine is a hot topic today, and will only continue to expand and improve. This is great news for the veterinary profession as it gives clients more options for interaction, which improves compliance and boosts your bottom line by tapping an additional revenue stream. It is a win-win-win situation for practitioners, clients, and patients. Who can argue with that?