U.S. Veterinary Practice Brokers In 2022
Veterinary practice brokers claim to make it as easy as possible to oversee and profit from veterinary practice sales. By serving as expert middlemen during veterinary practice sales, these brokers promise practice owners and consolidators neat profits and easy negotiations. Nevertheless, many consolidators and practice owners may earn more and forge better deals without the assistance of veterinary practice brokers.
Who are the leading veterinary practice sales brokers in the US, and can they really add value to the veterinary practice sales you're considering? Review this important information on veterinary practice brokers before the ink dries on any agreement, to ensure you strike the best deal possible.
What is a veterinary practice broker?
Veterinary practice brokers serve as middlemen between the two major parties in a deal – the buyer and the seller of a veterinary practice. Like brokers in other industries such as real estate, veterinary practice brokers guide the transaction from start to finish, providing expert advice to facilitate what can otherwise be a rocky and difficult sales process.
Many veterinary veterans have years of industry experience which allows them to save the lives of patients or appeal to clients. Despite their medical expertise, however, they may be totally unfamiliar with the legal and commercial processes related to veterinary practice sales. This allows veterinary practice brokers to step in and offer a helping hand with closing the deal in exchange for a commission.
Brokers usually take the side of the seller during veterinary practice sales. They'll serve as a commercial advocate for the seller in hopes of securing the best deal possible, which in turn raises their commission. Veterinary practice sales brokers are thus incentivized to find ideal buyers who are willing to pay competitive rates when purchasing a veterinary practice.
What's the difference between veterinary practice brokers and advisors?
Whereas veterinary practice brokers often focus on finding and closing a high-value deal as soon as possible to maximize their commissions, advisors often offer more comprehensive advice to veterinary experts. A veterinary advisor is more likely to work closely with a practice owner to ensure their organization ends up in the right hands of a loving and gifted owner, rather than striving to close any deal as soon as possible to maximize their earnings.
The difference is not always easy to tell, especially when veterinary practice brokers purport to work on behalf of sellers but only have a serious interest in earning a commission. Veterinary practice brokers are by no means unscrupulous or searching to maximize profits in every situation, yet they face professional incentives that may not always align with the interests and passions of full-time veterinary professionals concerned about their legacy.
Veterinary practice sales brokers must be carefully vetted to ensure they have the best interests of sellers in mind before entrusting them with the future of a practice. Advisors will go the extra mile to ensure a smooth transition from one owner to another, never jeopardizing the legacy or professionalism of the practice and its staff for the sake of simply closing a deal.
Advisors often achieve their goals by identifying a range of interested buyers and assessing their capacity to truly take over and improve practice rather than merely buying it for the sake of profits. Working more closely with owners than many other veterinary practice brokers, these advisors ensure that veterinary practice sales never sacrifice integrity, the quality of care, or the longevity of practice for the sake of expediency.
The pros and cons of veterinary practice sales brokers
Adding an unnecessary intermediary into any commercial deal always comes with pros and cons. Veterinary practice owners and consolidators should carefully review the benefits and drawbacks of hiring veterinary practice brokers before they enter into serious negotiations.
The pros of veterinary practice sales brokers
These intermediaries often have years of experience overseeing veterinary practice sales. As such, they might be able to provide the following benefits to practice owners:
Veterinary practice brokers can identify a wide range of interested buyers
Finding interested buyers is easier said than done. Skilled veterinary practice brokers will help you determine which buyers are serious and which are simply a waste of your time. An excellent advisor can also identify those buyers who have a passion and interest in maintaining your legacy and quality of care instead of simply opting for the highest bidder.
Brokers can supercharge your marketing to make your practice more appealing
Even the best practices need stellar marketing to stand apart from the crowd. Veterinary experts who are masters of delivering high-quality care don't always have the marketing chops needed to highlight the success of their practice. Talented veterinary practice sales brokers will ensure buyers are lining up around the block after exposure to your marketing.
Years of sales experience to quickly guide the transaction from start to finish
Experienced veterinary practice sales brokers will be able to identify and engage prospective buyers on your behalf. Decades of experience allow these experts to effectively manage the difficult commercial and legal process from start to finish. This allows practice owners and consolidators to focus on their mission of delivering high-quality care without sacrificing their own livelihoods or legacy in the process.
The cons of veterinary practice sales brokers
Veterinary practice owners do not need intermediaries to oversee their transactions. Adding an unnecessary middleman detracts from their profits during a sale and runs the serious risk of handing off your sale to an unscrupulous dealer who's more interested in their commission than maintaining your legacy and high quality of veterinary care.
Your interests may be unaligned with veterinary practice sales brokers
Veterinary experts have every right to earn an honest living for themselves, but many are motivated by a deep sense of compassion and a desire to deliver world-class care. Your interests may not always align with veterinary practice brokers, especially if they eschew the role of an advisor and instead seek to prematurely close deals for their own benefit. Veterinary practice sales brokered by an unnecessary intermediary can quickly become commercially oriented at the expense of your staff, legacy, and high treatment standards.
Veterinary practice brokers cannot always locate ideal buyers
Selling your veterinary practice is a monumental career decision that will impact the rest of your life. It's only natural that practice owners seek personal involvement to ensure their legacy ends up in the right hands. Veterinary practice sales brokers can identify a selection of buyers but cannot ascertain the ideal buyer as well as an owner can. For those interested in personal involvement when passing the torch to a new owner, brokers should be avoided.
Veterinary practice brokers take a healthy chunk of profits away from owners
Owners who have labored for years to develop a practice from the ground up will be disappointed to learn that veterinary practice brokers take a chunk of the proceedings in the form of a commission or upfront fee. Even the smoothest veterinary practice sales can incur broker service fees that are more than many owners expect ahead of time.
There is no quality guarantee when partnering with veterinary practice brokers
Finally, owners should remember that there's no quality estimation guarantee before hiring veterinary practice brokers to oversee the sale of a practice. A broker who was perfect for one owner and practice may be the worst possible option for a different owner and practice. Estimating their quality ahead of time is incredibly difficult, time-consuming, and often downright impossible. Veterinary practice sales are already hard enough without the addition of a fifth wheel who takes a chunk of the profits while imperiling your legacy.
A list of U.S. veterinary practice brokers
Veterinary practice owners across the United States have many different options to consider when assessing veterinary practice brokers. Based in different states and sometimes specializing in specific trades, such as appraisals or buying a practice instead of selling one, these veterinary practice brokers may be able to help you identify the ideal buyer.
OMNI Practice Group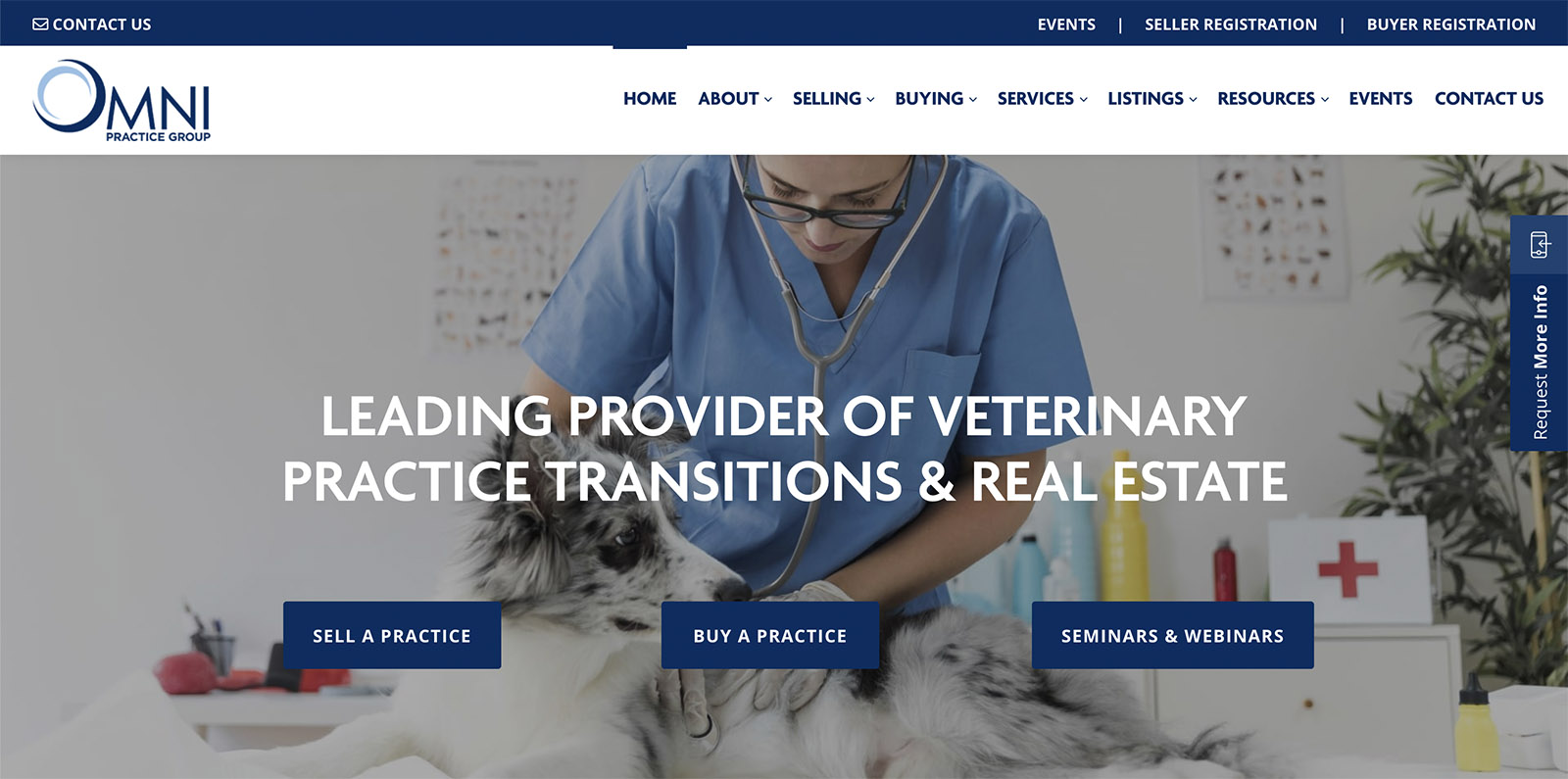 The OMNI Practice Group focuses on practice transitions, sales, valuations, and real estate services for veterinary practice owners. Their website includes helpful testimonials from previous clients and an informative blog for practice owners curious about acquiring or selling a veterinary operation.
Practice Sales Advisors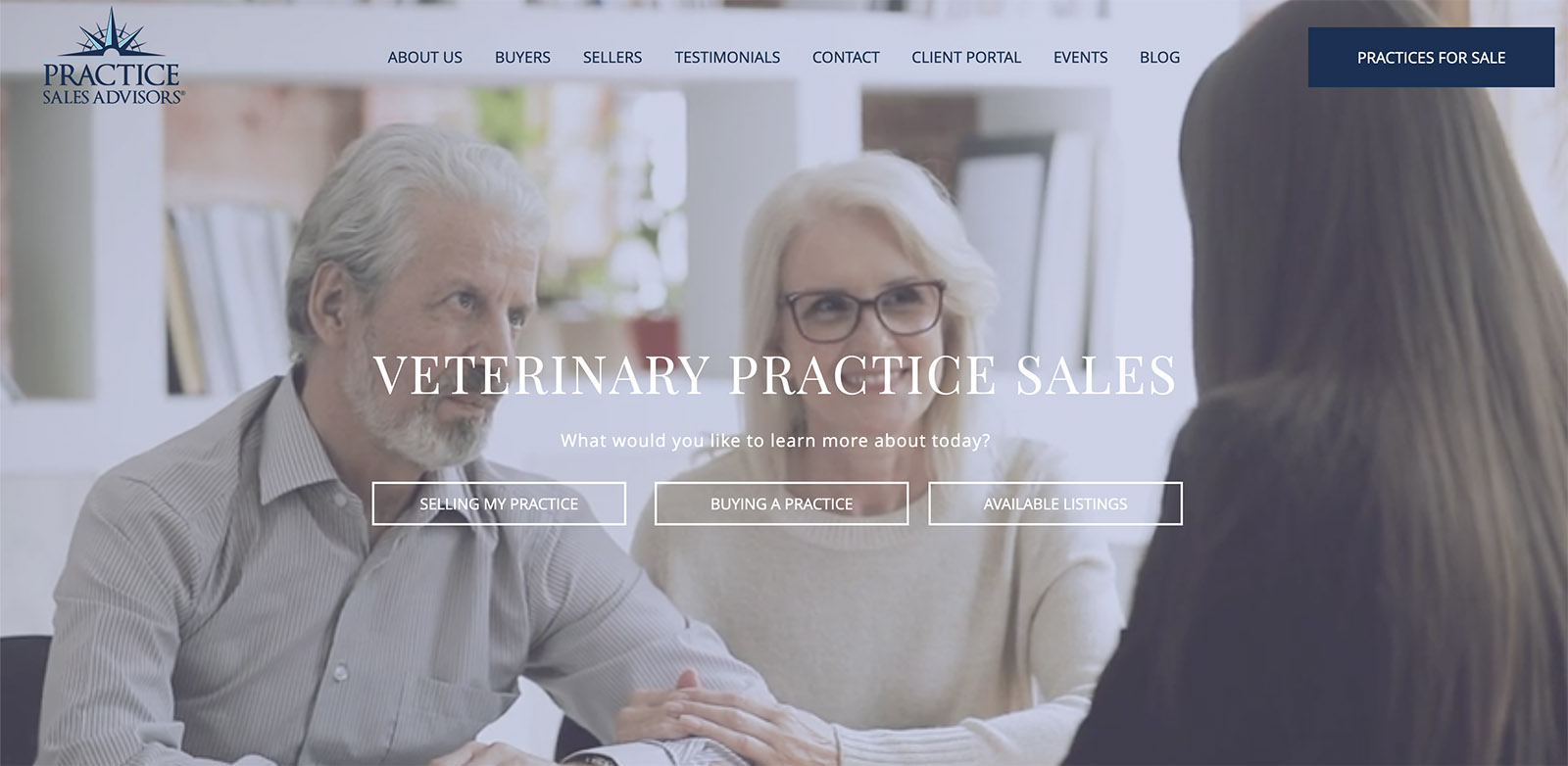 Voted the best veterinary practice brokers in Georgia in 2021, the Practice Sales Advisors group has a wide array of listings available to review. Whether you're looking for a dream practice location or want to sell to a new owner, their website is replete with interesting information about veterinary practice sales brokers.
Praxis Veterinary Practice Brokers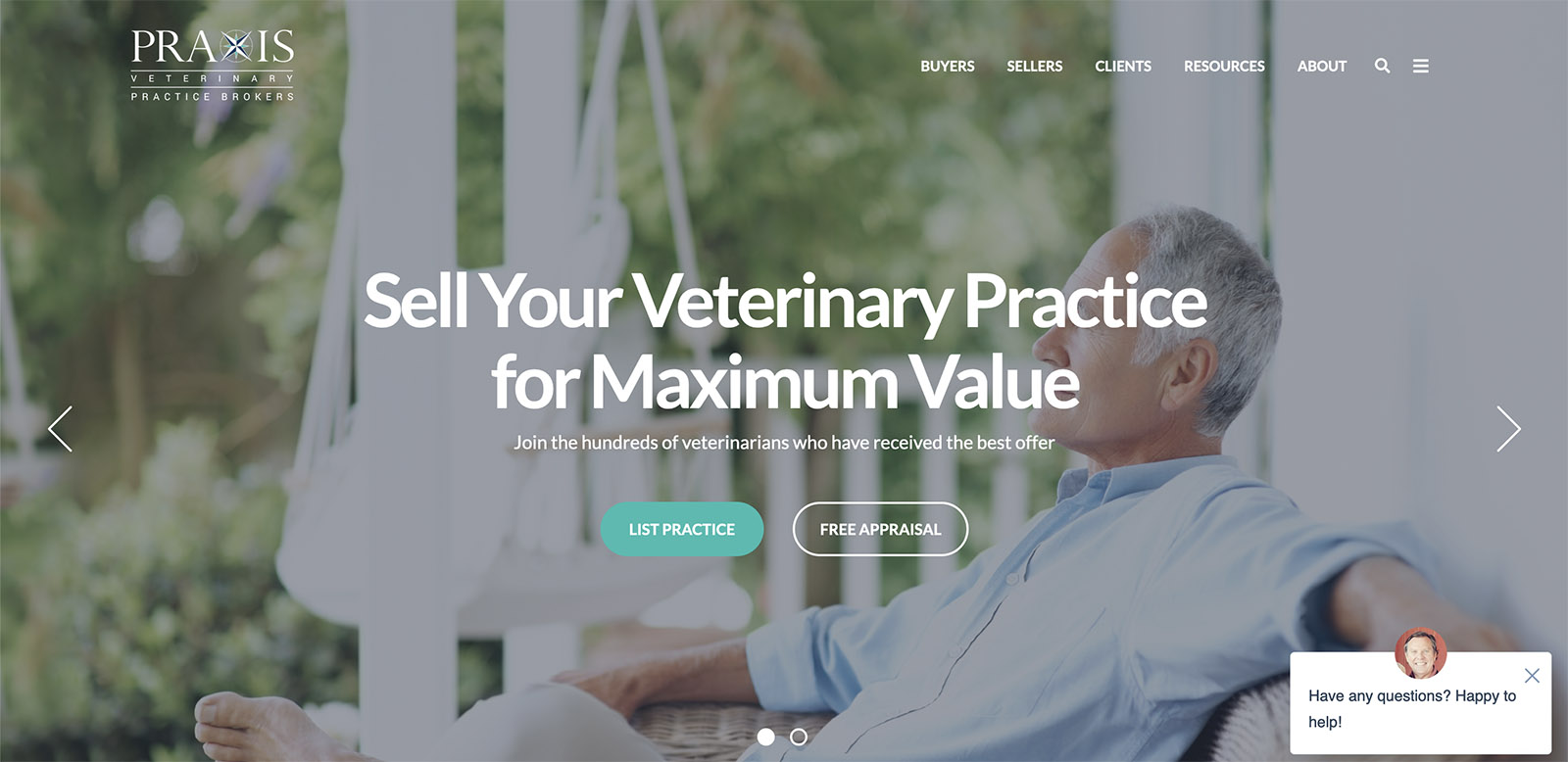 Those seeking to maximize the value of their practice during the sales process may be interested in the Praxis Veterinary Practice Brokers, who manage appraisals and contract management in addition to buying and selling practices. Their website offers complimentary consultations for practice owners interested in taking the next step and cutting a deal.
Ackerman Group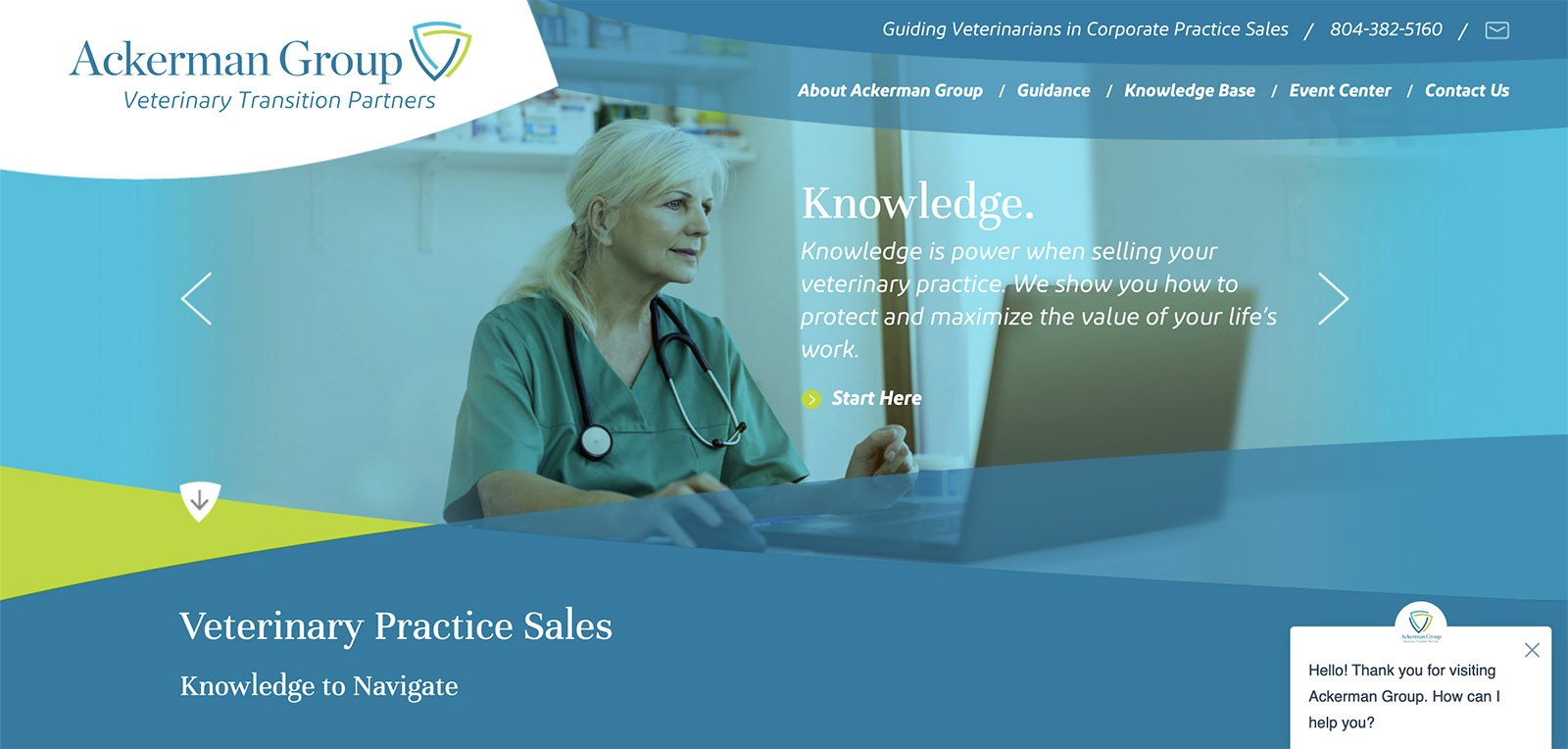 The Ackerman Group claims to be uniquely focused on the transition process during veterinary practice sales. Focused on corporate market transactions, the Ackerman Group also offers digital consultations to interested owners and seeks to find the best cultural fit when identifying prospective buyers for a given practice. Their website includes an explanation of their operating model which is focused on finding the best fit and competitive price when selling a veterinary practice.
Total Practice Solutions Group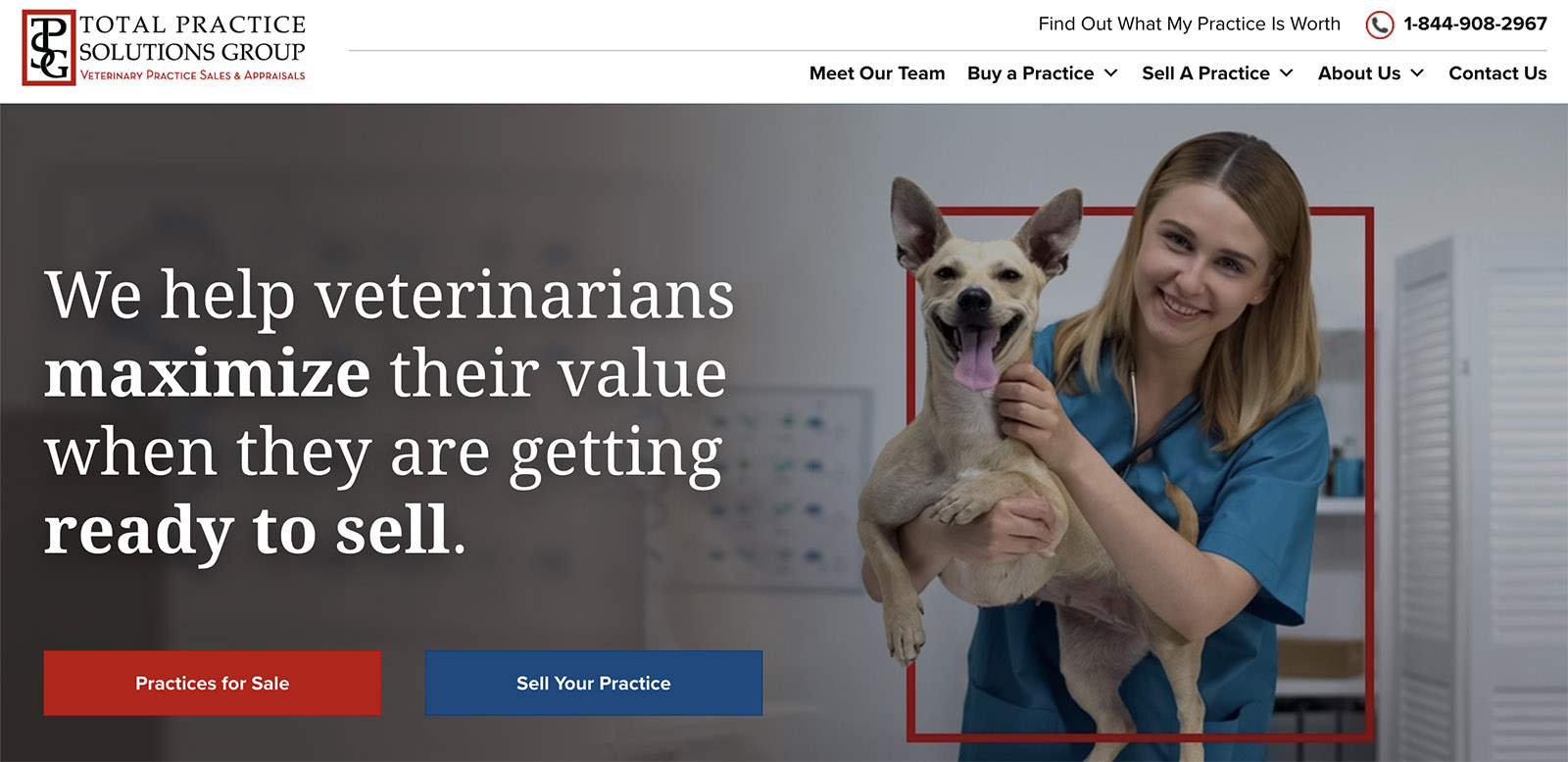 The veterinary practice brokers at the Total Practice Solutions Group offer a number of illustrative case studies for your review on their website. Focused on identifying ideal corporate consolidators interested in your practice, the Total Practice Solutions Group has overseen over 5,000 total transactions and offers properties in a myriad of states.
PS Broker
The veterinary practice brokers at PS Broker offer nationwide veterinary appraisal services and can help sell or purchase veterinary real estate across the United States. They offer automated email services to keep veterinary practice owners in the loop whether they're looking to buy or sell and have over 20 years of experience in practice valuations to boast about on their website.
Simmons Veterinary Practice Sales & Appraisals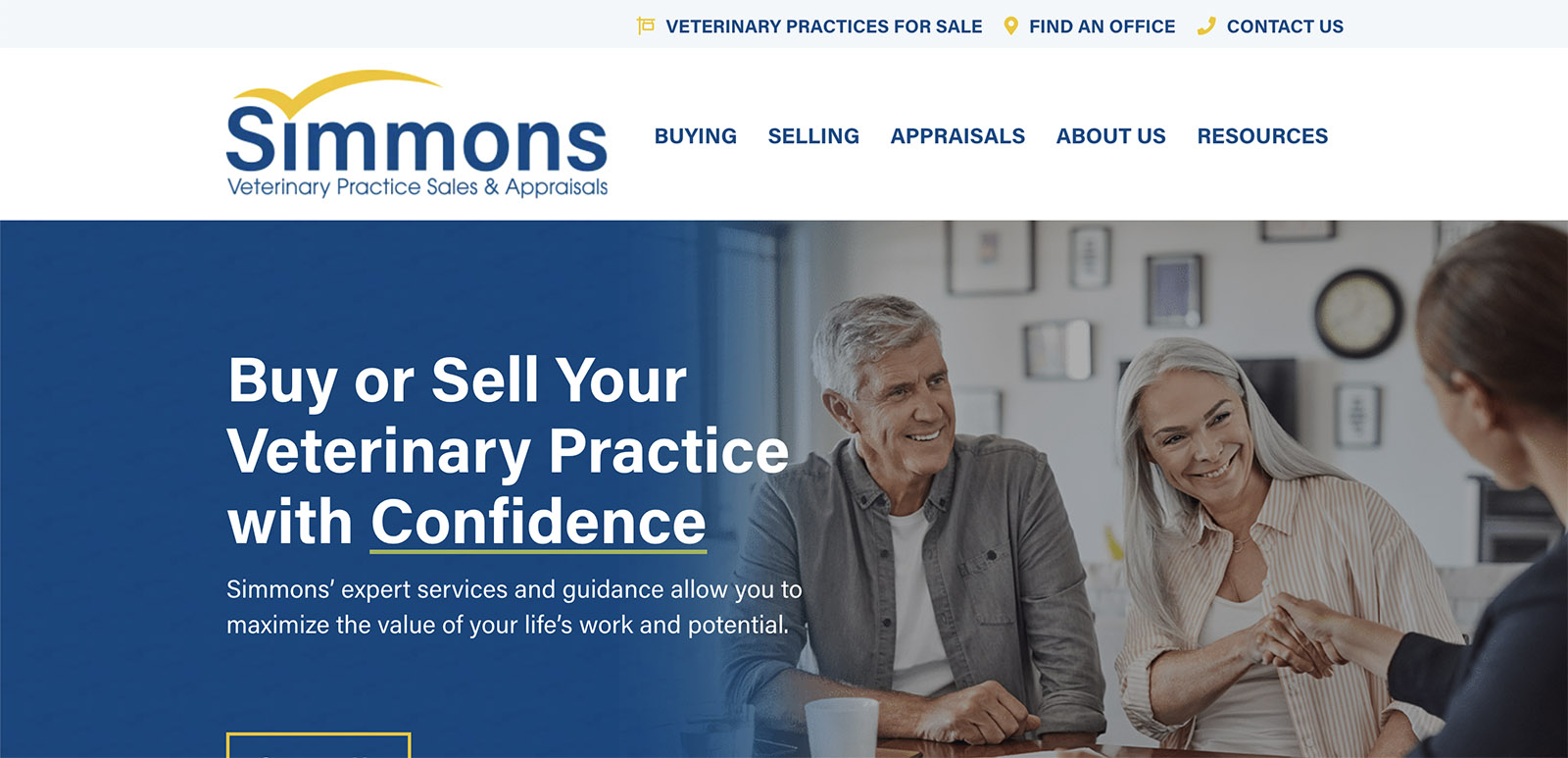 Focusing exclusively on veterinary practice sales and appraisals, the veterinary practice brokers at Simmons were founded in 1977 and have extensive valuation experience that many veterinary practice owners may be interested in. The Simmons Veterinary Practice Sales & Appraisals group also offers a Simmons insight newsletter for curious readers.
VetValue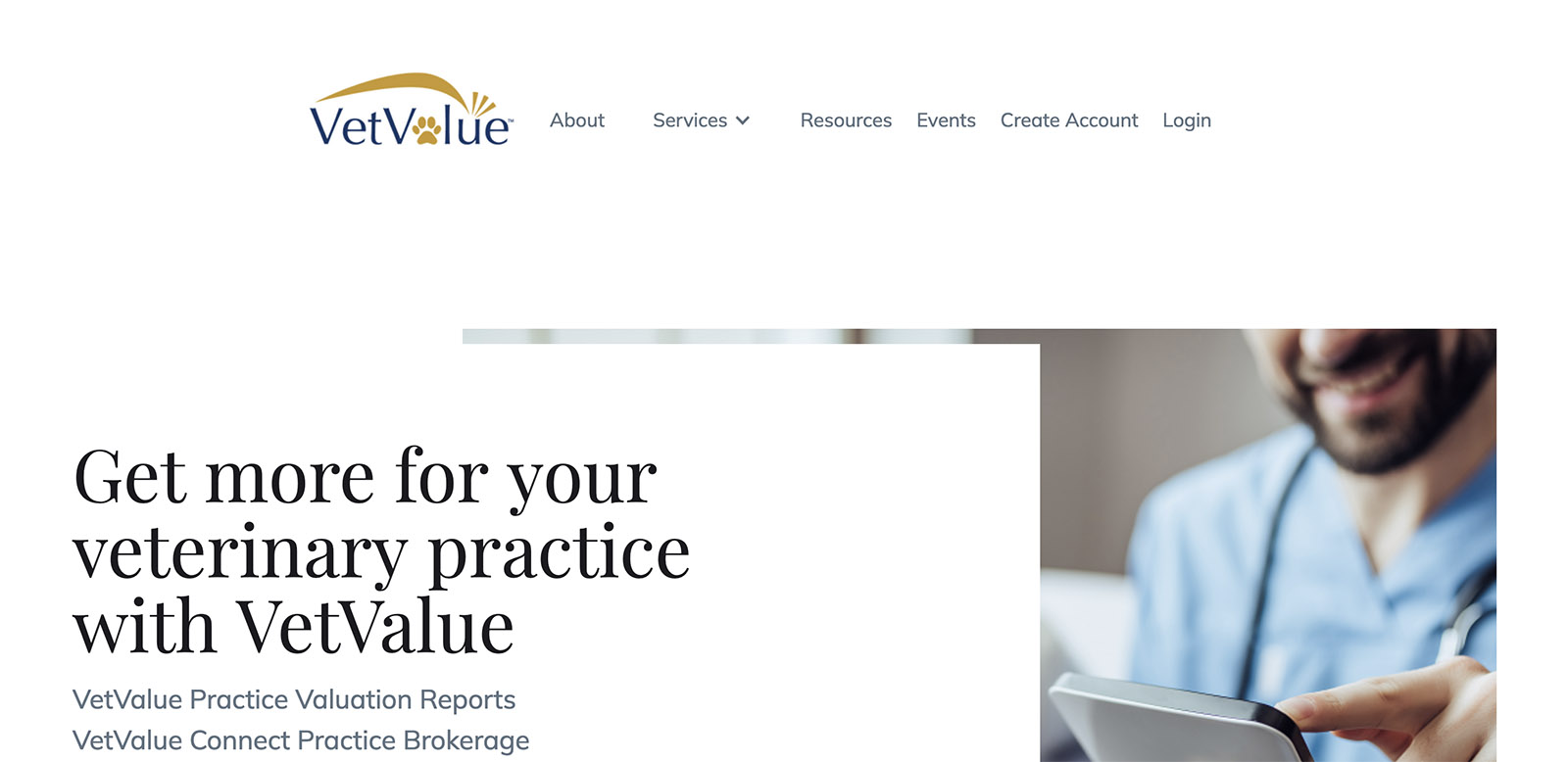 VetValue offers both practice brokerage and practice valuation services. With advertised fees as low as 2%, VetValue offers a clear description of its services and offers a unique Practice Sales Value Guarantee to its clients. VetValue offers a free summary estimate to clients and full-service brokerage with fees ranging from 4-6% depending upon the services sought.
CARR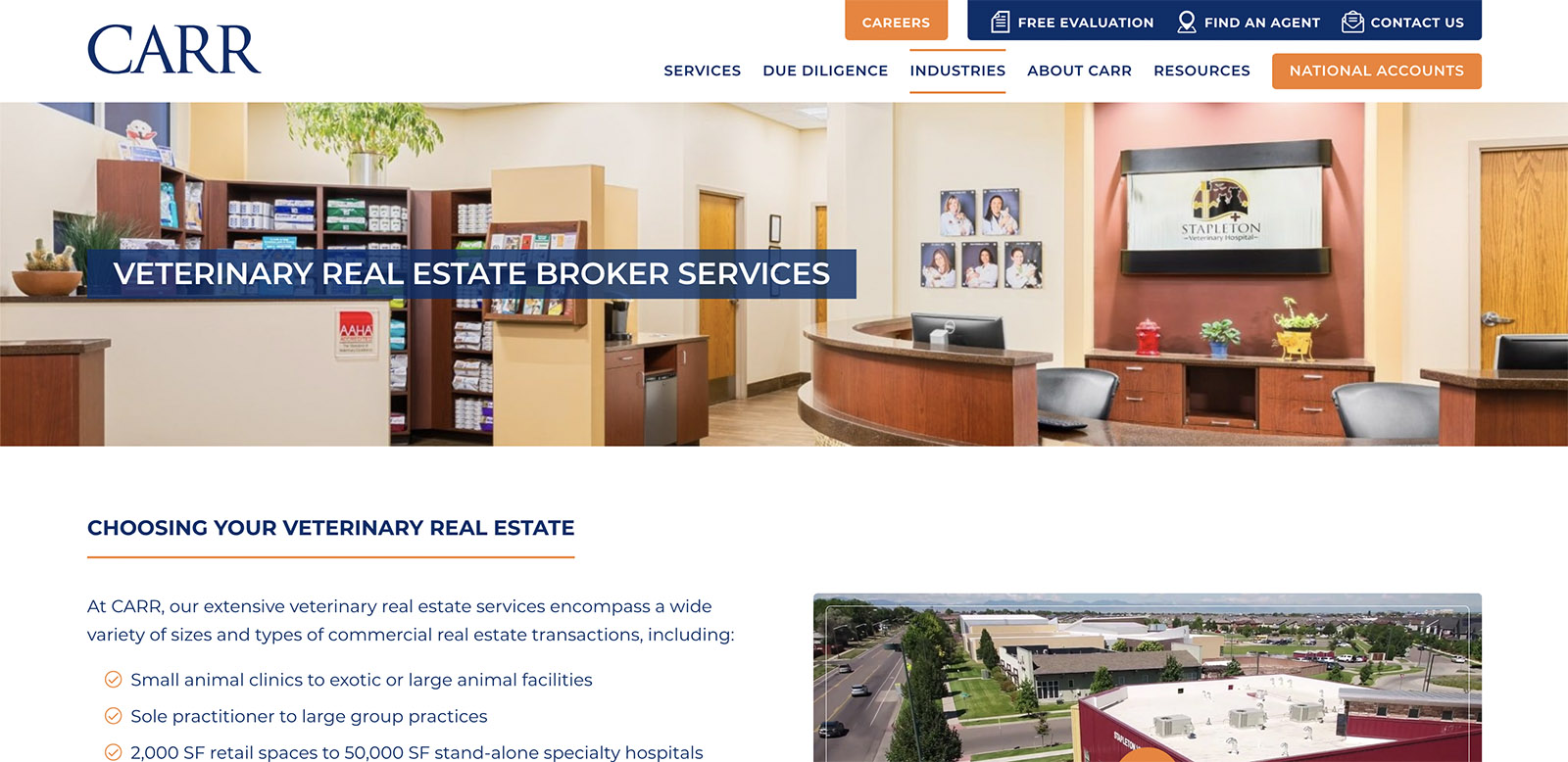 CARR helps veterinary practice owners identify prime real estate and provides both tenant and buyer representation when cutting deals. CARR serves various healthcare industries, including not only veterinary care but also dental, chiropractic, and other sectors. Startups, relocations, and expansions can all be managed by CARR, which has an established history with thousands of healthcare providers across the United States.
1st Med Transitions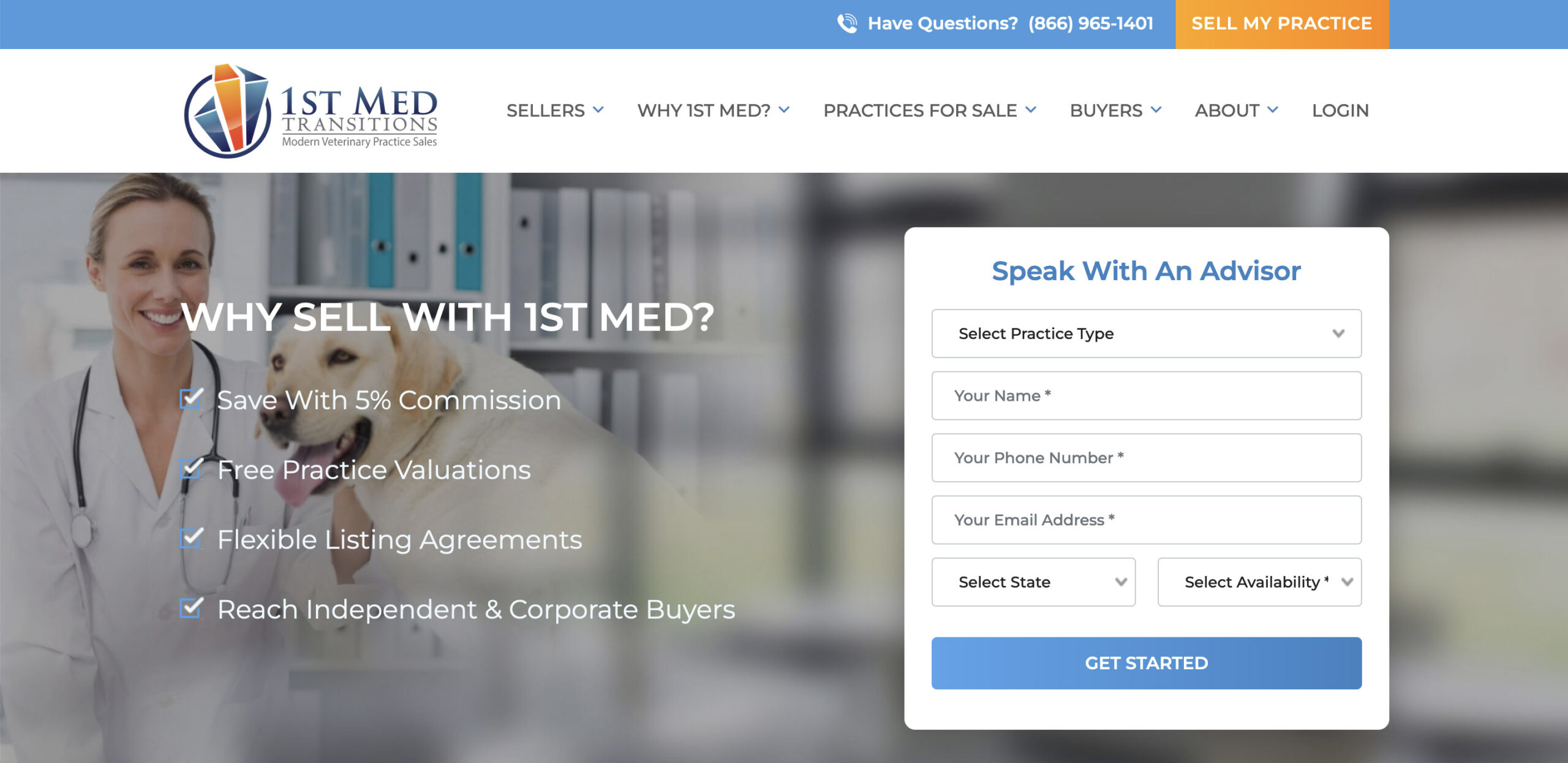 1st Med Transitions promises to oversee veterinary practice sales while offering free practice valuations with relatively low commission fees. With transparent 5% commission fees, veterinary practice owners know what they're getting from the first day of negotiating. Capable of pairing owners and consolidators with private and corporate buyers, 1st Med Transitions also has a transition advisory team to ensure a smooth practice handover.
FVB – Florida Vet Broker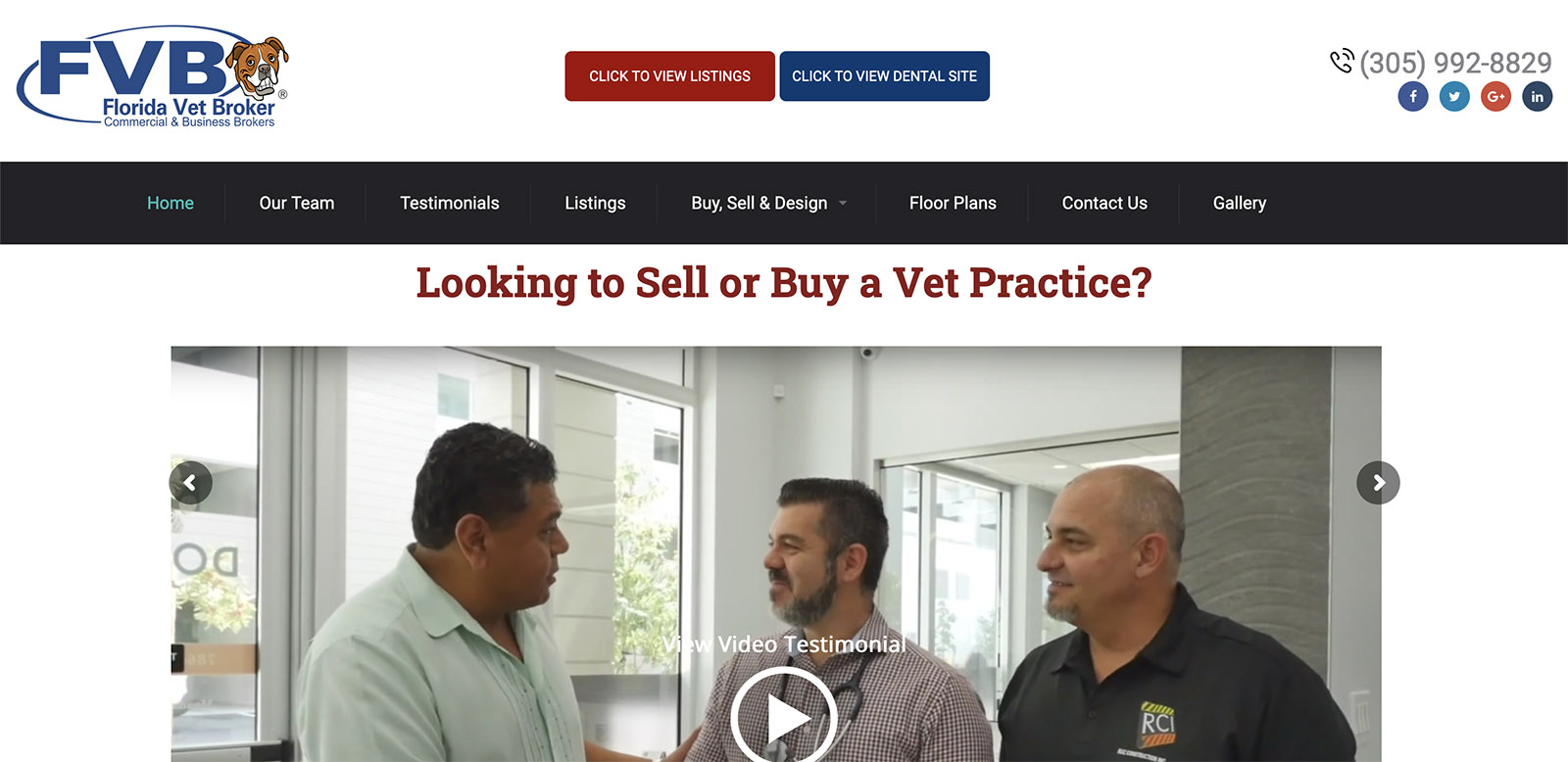 The experts at FVB purport to be the premier veterinary practice sales brokers in the Sunshine State. Not all veterinary practice brokers specialize in local geographic areas, preferring sometimes to offer national services. At FVB, veterinary professionals, legal experts, and seasoned veterinary practice brokers come together to offer financing, sales, and buying services across Florida.
Monarch Business Consulting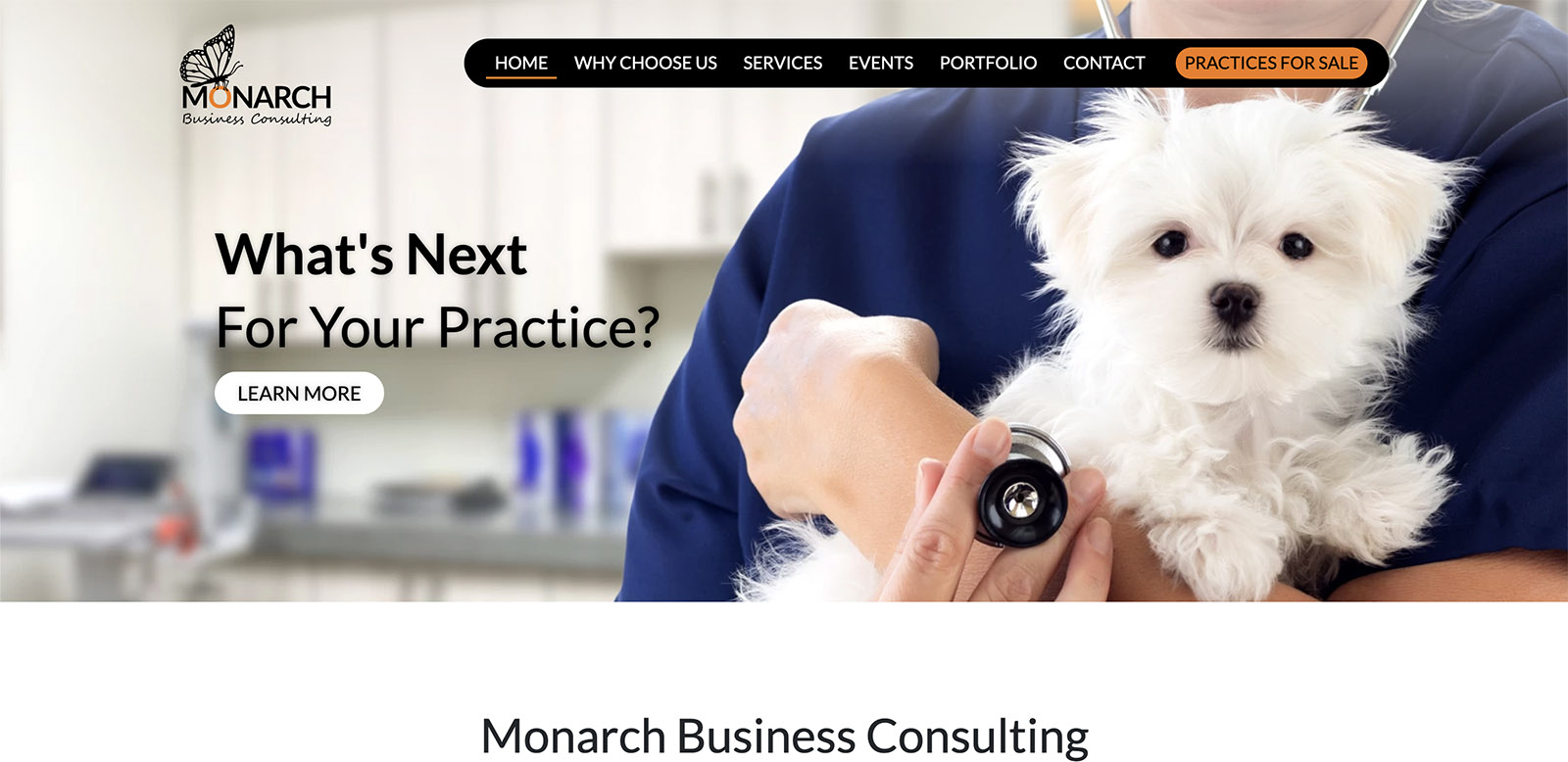 The experts at Monarch Business Consulting provide services across the United States and are announcing new properties in Massachusetts, New Jersey, Connecticut, and Pennsylvania in 2022. With a clear list of practices for sale, Monarch serves as a financial advisory firm serving independent veterinarians in the Eastern US. Originally founded to assist associate veterinarians looking to buy in or acquire practices, they now provide a suite of veterinary practice sales services including valuations and first-time buyer representation.
Swingbridge Capital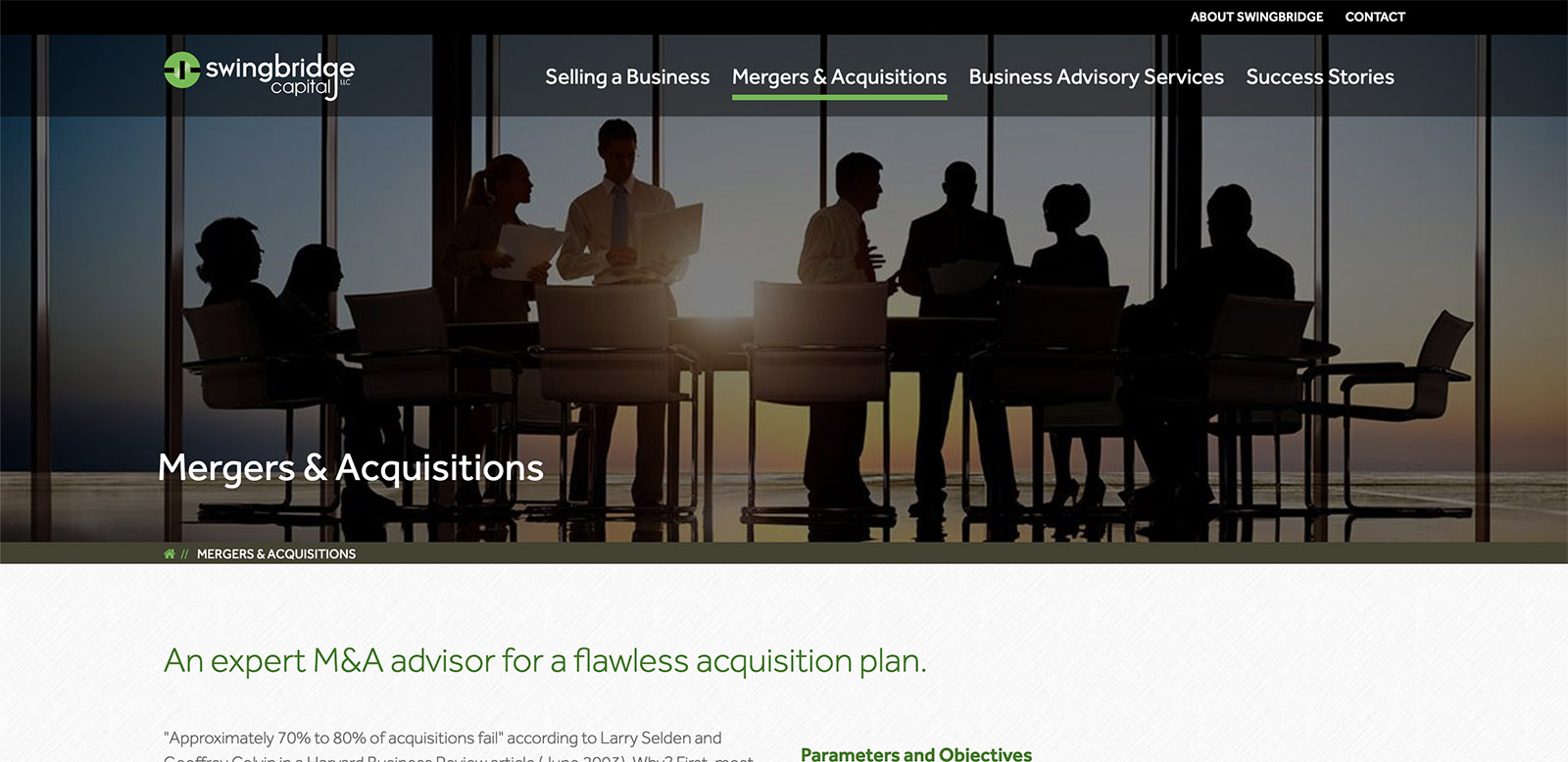 Swingbridge helps sellers of both GP and specialty veterinary hospitals sell their properties. Focused on finding "strategic buyers" to maximize value, these veterinary practice brokers also offer extensive business advisory services, including corporate finance services. Swingbridge also helps oversee complicated mergers in addition to veterinary practice sales.
VIDAVETS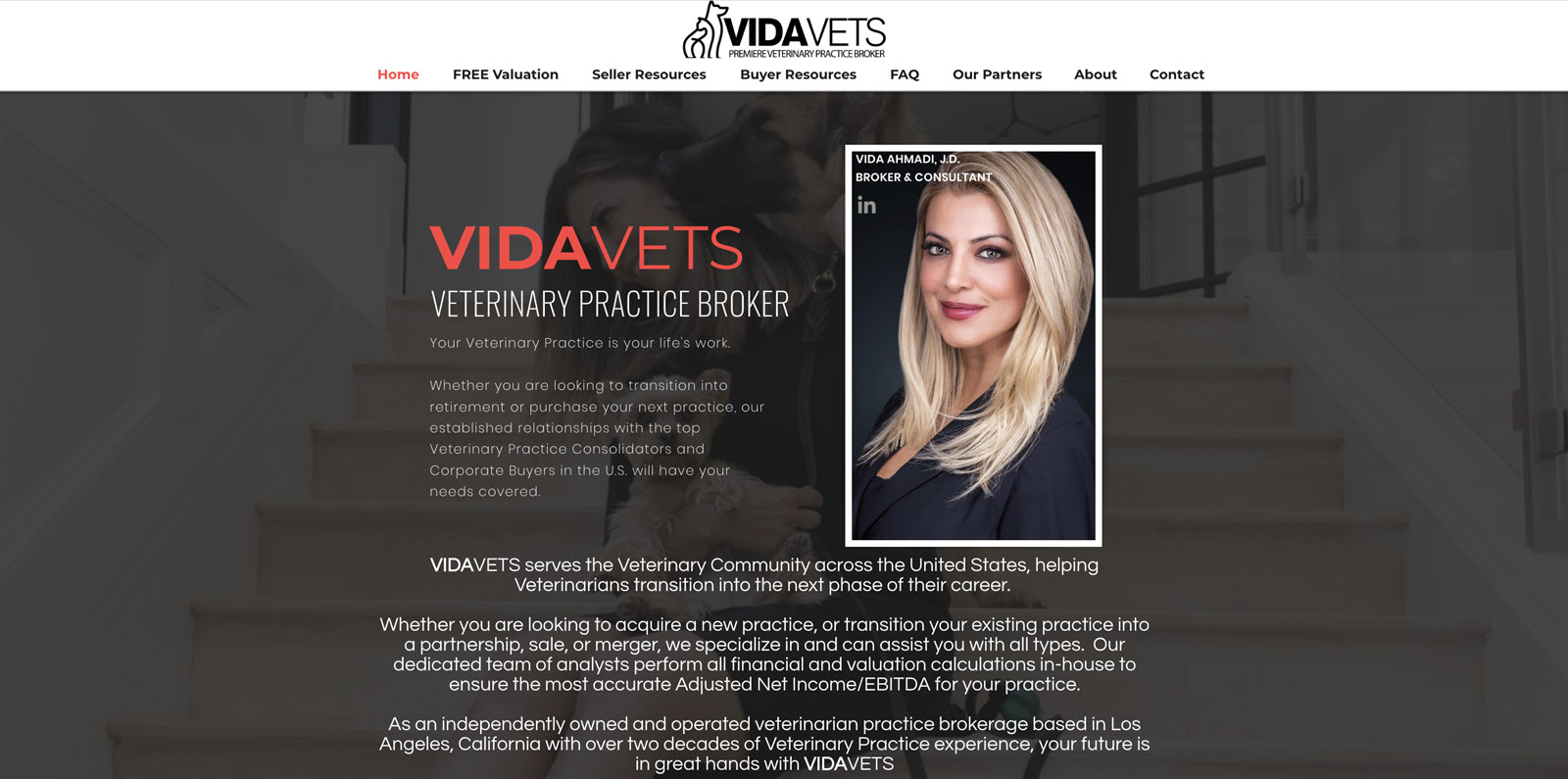 VIDAVETS helps Veterinarians across the United States with their career transitions. They specialize in assisting with practice acquisition, partnership, sale, or merger, and have a dedicated team of analysts to provide accurate financial and valuation calculations. With over two decades of experience, VIDAVETS is an independent veterinarian practice brokerage based in Los Angeles, California.
VPB – The Veterinary Practice Broker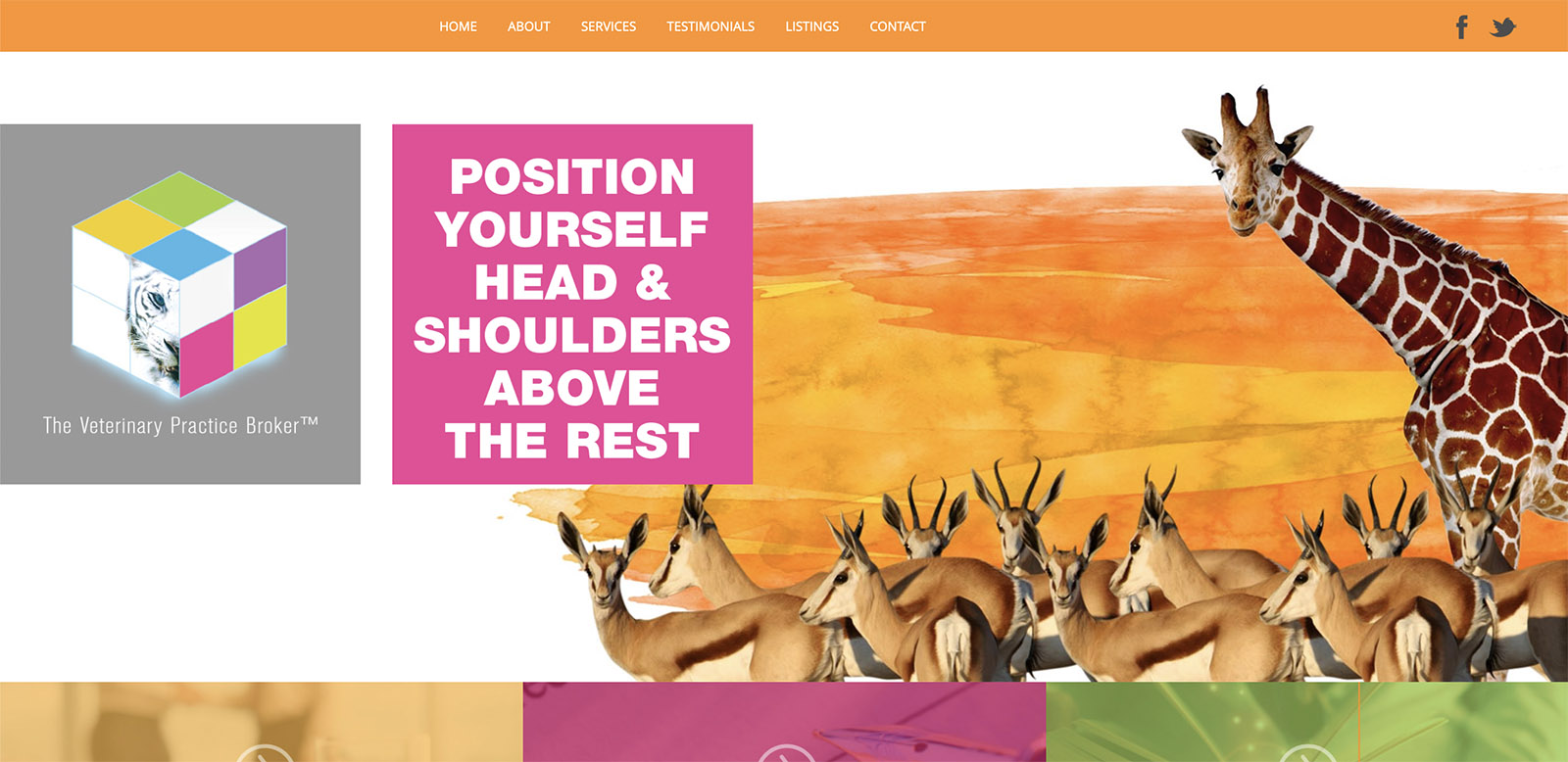 VPB is a full-service brokerage firm for veterinary clients in California. With over 30 years of industry experience, VPB manages veterinary practice sales, acquisitions, mergers, and lease renegotiations to save money on real estate deals. All VPB fees are determined on a project-by-project basis. VPB has established a positive reputation for itself across California, where it exclusively operates.
Cavanaugh Partners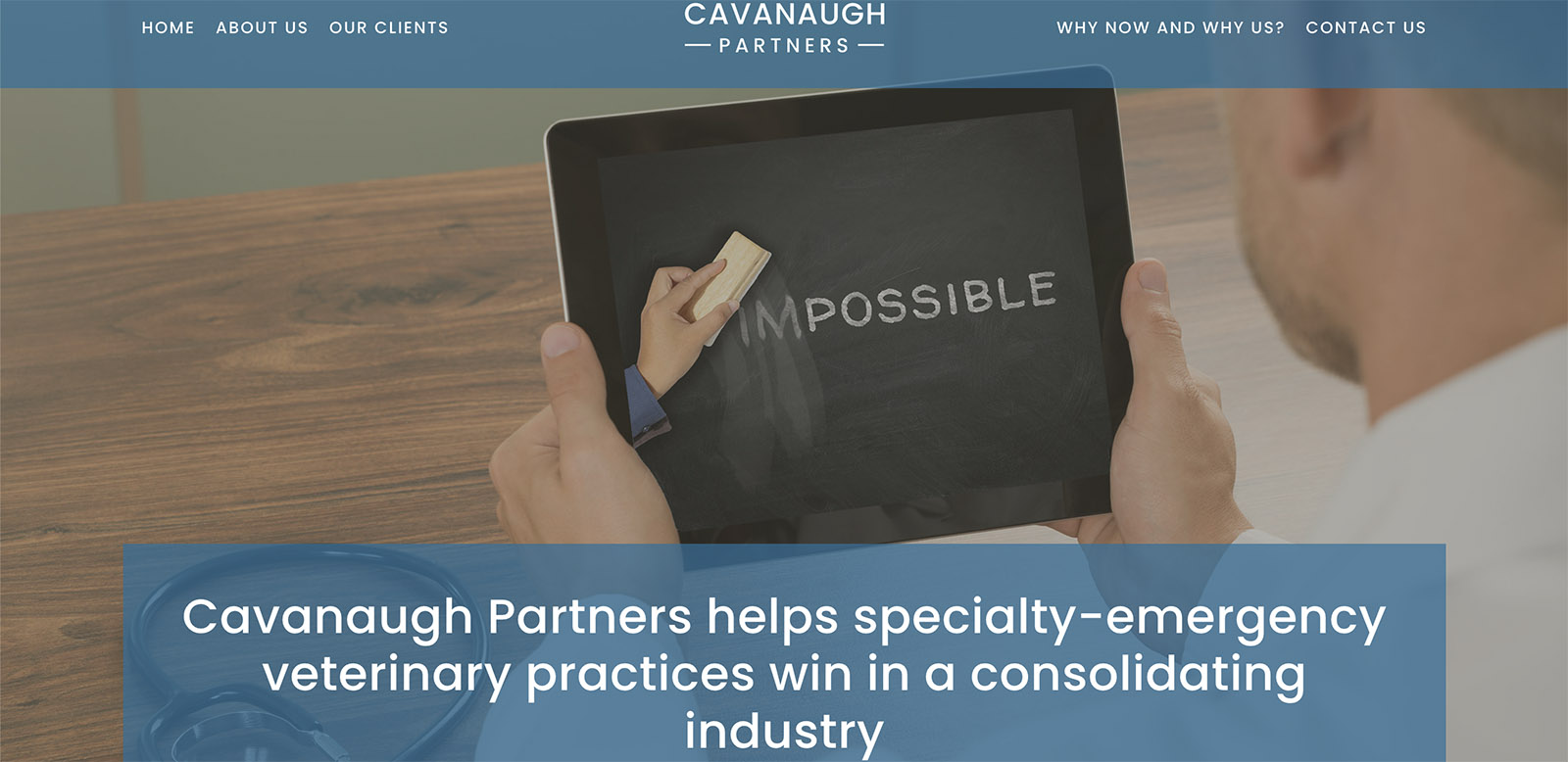 Specialty and emergency veterinary practices looking for assistance managing their veterinary practice sales should consult with Cavanaugh Partners. Founded to help veterinary practice owners navigate the tumultuous era of consolidation, these veterinary practice brokers are part of a financial advisory firm that exclusively assists specialty-emergency veterinary practices. Cavanaugh Partners helps these specialty veterinarians transition into larger organizations while maximizing their value and preserving their standards of care.
Sterling Point Advisors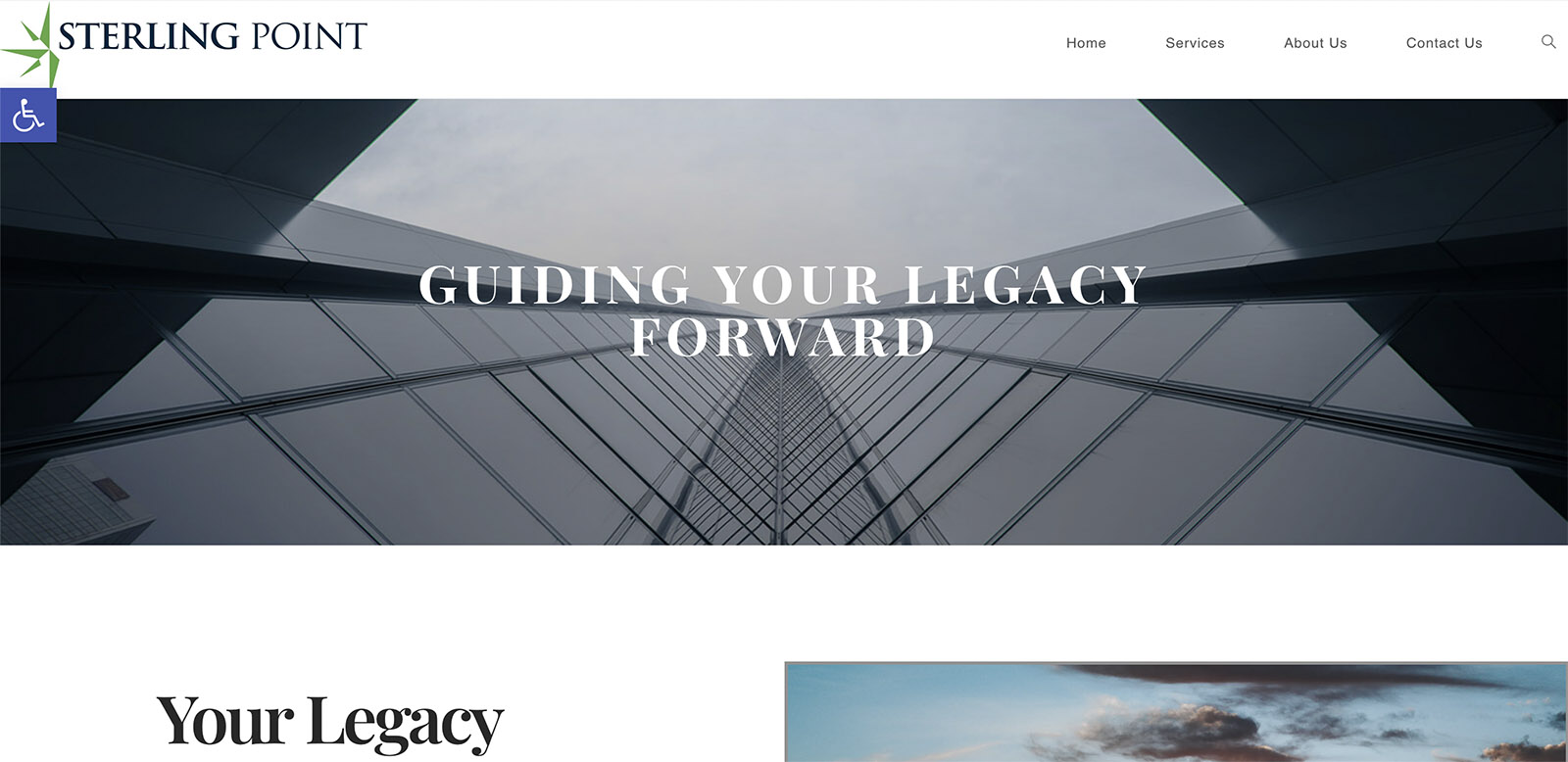 Ideal for veterinary practice owners concerned about preserving their legacy, Sterling Point ensures that veterinary practice sales don't come at the expense of your reputation. With sell-side and buy-side advisory services, Sterling Point also provides value consulting to veterinary practice owners. While not exclusively focused on veterinary care, Sterling Point focuses on helping privately owned businesses transition to the next stage by executing a powerful exit strategy that leaves all parties happy.
Conclusion: making sense of veterinary practice brokers
Veterinary practice brokers often promise owners that they can secure the best deals imaginable, but the reality is far more complicated. Veterinary owners who are invested in high quality of care standards and the well-being of their staff are cautioned against rushing into a deal with the help of veterinary practice sales brokers pursuing a commission.
Owners should also recall that the unneeded help of a third-party intermediary eats into their own profits during veterinary practice sales. An excellent advisor can help you identify an ideal buyer who will look after your legacy in addition to providing a competitive offer. Finding a buyer who will improve clinical care and the client experience doesn't require the help of unnecessary veterinary practice brokers and their steep service fees.
Selling your practice is a personal mission that can serve as the perfect capstone on your successful career. Wasting your money with an unnecessary intermediary can also taint your legacy if it leads to a lackluster deal with an unsuitable buyer. Always put veterinary practice brokers behind you and prioritize the wellbeing of your practice as you entertain offers.