The Quick Guide to Selling a Veterinary Practice
Important Pitfalls to Consider When Selling a Practice - updated September 13, 2021
Selling your veterinary practice will be one of the most pivotal and vital moments of your career as a veterinarian.
However, understanding why you're selling it, how much it's going to be sold for, and who is buying it, all factor into making this the best day of your life or an absolute nightmare. How exactly should you sell your veterinary practice, especially if you intend to keep working afterwards? 
When learning how to sell a veterinary practice, you must begin by asking the right questions. For example, do you have a preferred buyer in mind? Are you looking to get out of your practice entirely or still maintain a role?
The answer will be different for everyone, so it's vital that you articulate your motivations for considering a sale, and once you decide to go through with it, how are you going to structure the deal?
Today, we will answer all of these questions and discuss the various ways you can sell your veterinary practice and be happy with the result.
Why Do Veterinarians Sell Their Practices?
As mentioned above, there are numerous reasons why veterinarians decide to sell their practice.
The most common reasons include: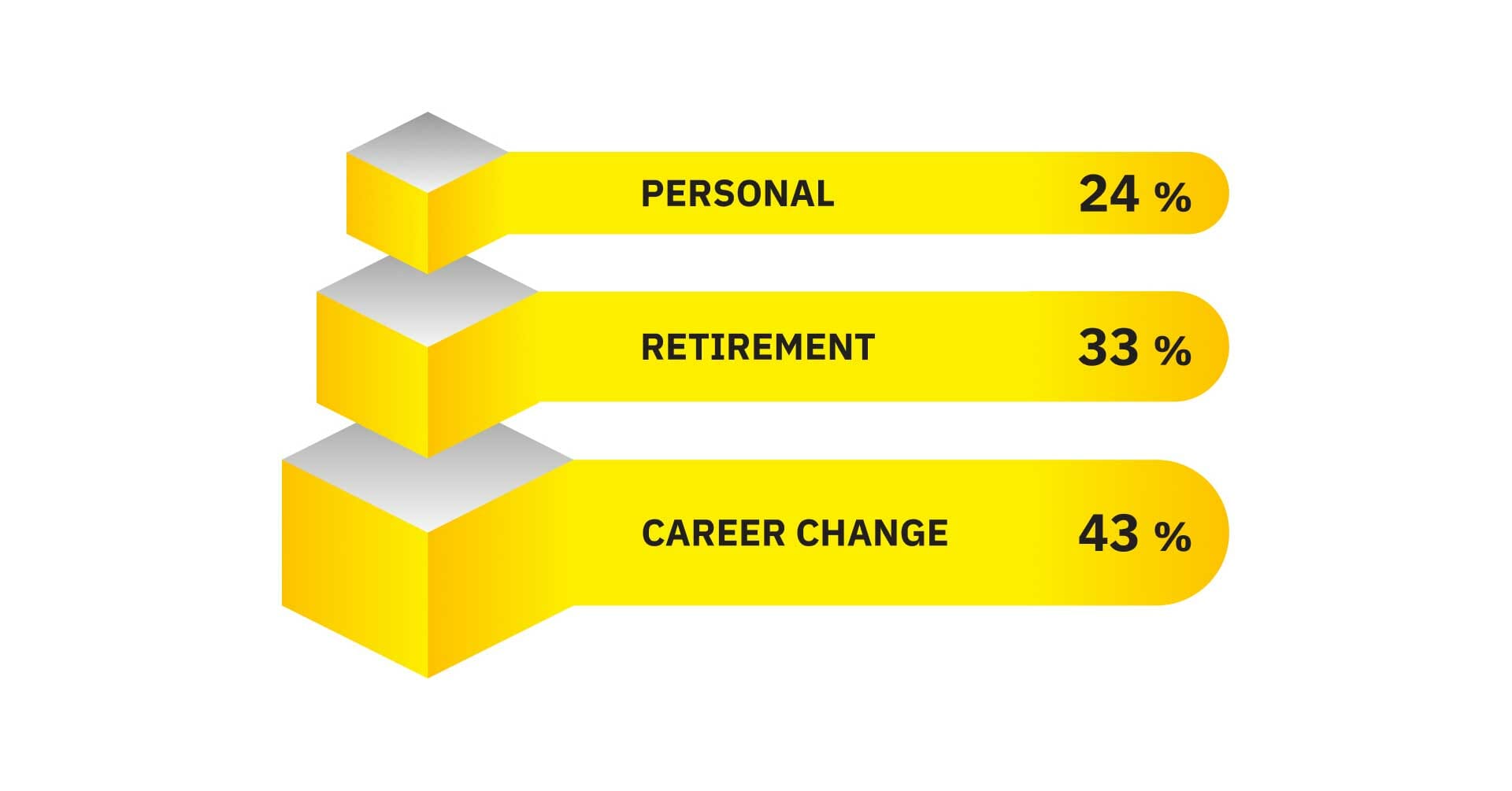 Career change (43%). When you went through veterinary school, your goal was to treat animals, not run a business. Many veterinarians find themselves burned-out and frustrated by the demands of managing their practice. The high levels of stress, long hours, and the obvious emotional toll can push you to the breaking point. At that stage, many veterinarians decide to change careers and perhaps go into academia or consulting. Many go on to find rewarding careers in the animal health industry.
Retirement (33%). There comes a time when everybody retires. You've worked hard throughout your career and now it's time to relax. If you discover that a quiet life isn't for you, you can always do relief work, consulting, or teaching.
Personal (24%). There are many personal reasons why a veterinary practice may need to be sold. Among them are incapacitation, poor health, change in life circumstances (divorce, substance abuse, finances), and death.
Preparing for a Successful Practice Sale
Due to the complexity of a veterinary practice sale, it might be challenging to know where to begin.
We've got you covered and will guide you through the essential steps you should take.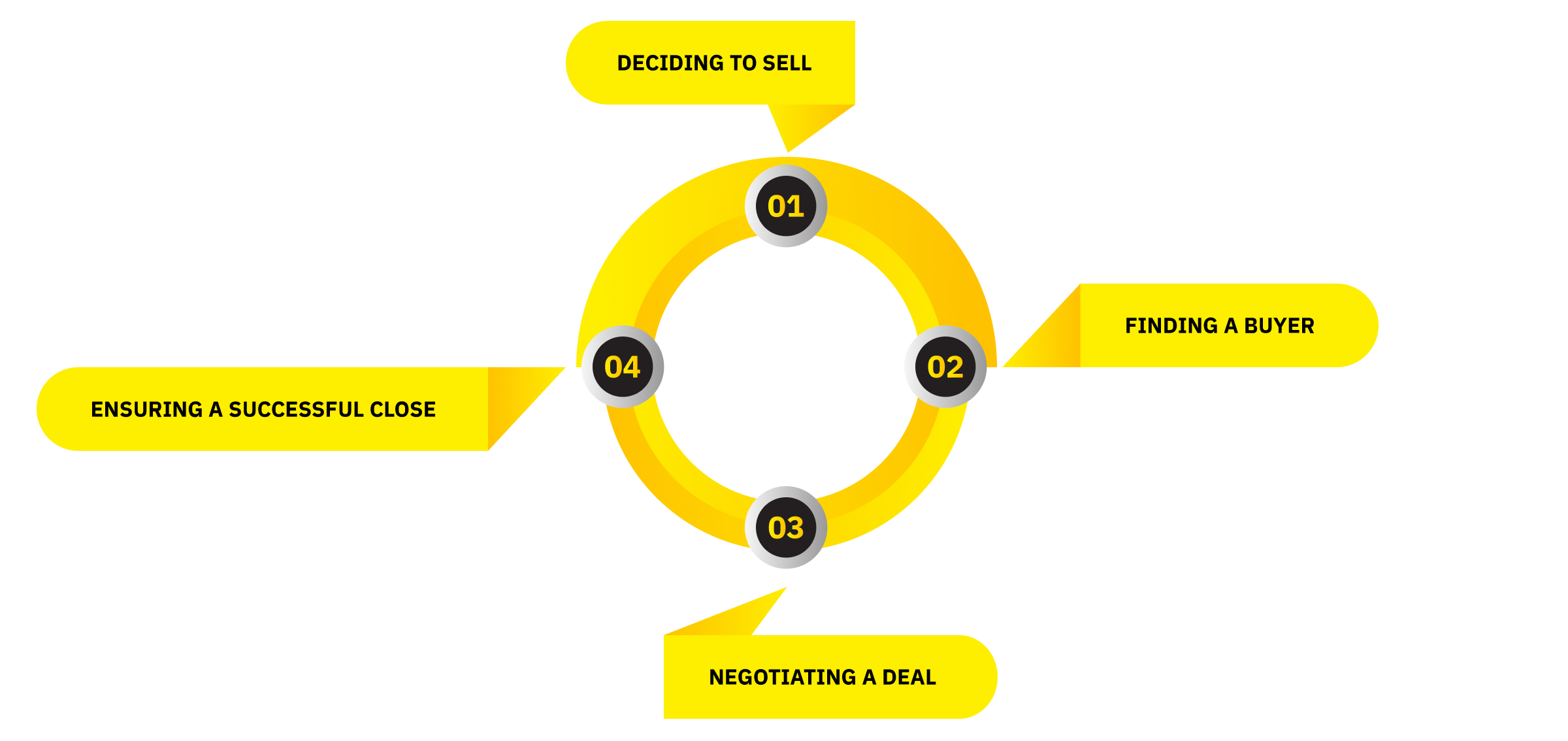 Step 1. Deciding to Sell
How do you know when to sell your veterinary practice? For most veterinarians, this question is both the most difficult and most important. 
The first and most important step of selling your practice is knowing how much it is worth.
You can't sell something without understanding what it's worth and what you are looking to get from a sale. Merely selling your practice for one year's gross revenue is an outdated convention that will most likely yield a less-than-ideal price.
Step 2. Finding a Buyer
Once you're confident in a price for your practice, your next step is to find a potential buyer.
Selling your practice is an involved and tedious process, so discretion is advised when you begin soliciting buyers.
Potential buyers may approach many vets at one time or another before they make an offer. Veterinary consolidators like to do their homework before deciding which practice they intend to buy. 
Big veterinary conglomerates, private equity groups, and other entities continue to identify and target practices as potential investments to diversify their real estate portfolios and create a stronger brand image.
Associate Vet
Many vets who own their practice may try and sell their share to one of their associate vets.
This can be a great transition because the associate is intimately familiar with the daily procedures and office culture, and most likely has a strong relationship with current patients.
Suppose you believe selling to an associate is the best choice. In that case, you should gauge their interest and have a fundamental understanding of their professional goals before making an outright offer.
Rushed transactions of this magnitude will have severe implications for all of the relationships in your practice, so ensure you and your associate are on the same page.
Partners
Partners who have invested in your practice will have a similar relationship as your associates. However, since they may not be practicing veterinarians, they may or may not want a larger ownership stake in the practice.
If they do, it would be wise to work with them to identify a lead vet for the practice once you sell.
However, your investment partners may also be planning to retire soon  and may not want any additional stake. They may encourage you to sell the whole thing and help you find a suitable buyer.
Vet Corporation
Sometimes a group of individual veterinary practices will merge and form a more extensive network. Structuring practices this way has several benefits:
Resources can be shared among a larger group
Staff and vets can rotate between locations to fill gaps in as necessary
Costs can be standardized and potentially reduced
If you have a financially healthy practice with a robust client base, selling your practice to a veterinary group in your area may be an optimal solution.
Not only will you probably get a good deal, but the purchaser will also have expertise in making a smooth transition to their systems and helping you end up where you want to be.
Private Equity
Another viable option for selling your practice is to sell to a large investor group.
Private equity and other financial institutions are continually searching for new ways to diversify their real estate portfolios and veterinary practices remain a very popular acquisition option.
Suppose you consider selling to these professional investors. In that case, your financial statements, revenue, and business model are all essential to have in order because their top priority is their bottom line and generating consistent returns for their investors.
Step 3. Negotiating a Deal
Once you have decided to sell and have a buyer lined up, you need to construct a fair and straightforward deal.
Letter of Intent
The letter of intent (LOI) is a powerful statement because it establishes the first "hard" communication between you and your potential buyer.
It's important to note that a letter of intent is not usually legally binding for a sale. Still, it can prevent the parties from discussing the terms or soliciting a deal from another buyer until an allotted time has passed.
This stage can be beneficial and informative because both the buyer and seller have ample time to perform due diligence without amassing high legal costs.
Once both parties sign the letter of intent, the next step is to involve your legal team and begin drafting a contract.
Contract
The contract is the most important piece of the transaction when you sell your practice.
Buyers and sellers will work with their legal teams to draft the best deal for both parties.
The buyers may require the vet or a percentage of their staff to remain for a specified period to ensure their investment will continue to operate as they take ownership.
The contract stage is also the final time to discuss any last-minute reservations or changes that might need to be made for the deal to close.
Additionally, a valid contract is usually required to obtain financing from a bank.
Step 4. Ensuring a Successful Close
Once you set the price and draft the contract, you need to finish the process by closing the deal. Buying a veterinary practice is a big deal, and the buyer may get cold feet at the last second if you don't reassure them. 
This can be a sensitive topic because people's jobs and perceptions of you and your practice are potentially on the line.
Revealing to Your Staff
These types of transactions are typically kept secret until the deal is reached.
When you break the news to your staff that you've sold the practice, you should do it in such a way that they feel respected, and that you will outline the path for the future and inspire them to stay on with the new owners.
The last thing you want is for your staff to feel slighted or any resentment. Fortunately, if you handle this well, they will likely admire you.
Contingencies
Anything can happen before the deal is completed. It's vital that you prepare for any outcomes that will cause you to alter your strategy if the seller gets cold feet, your employees don't take the news well, or you have second thoughts about selling your practice.
You shouldn't worry about contingencies too much since they are backup plans for a less than ideal scenario, but being prepared for anything will calm any nerves and help you feel confident in your sale.
Important Pitfalls to Consider When Selling a Practice
It's easy to make a mistake when selling a veterinary practice that ends up costing you dearly. Many veterinary practices for sale never lure in the right buyer and remain on the market for lengthy periods of time. Review these common pitfalls before selling your practice to ensure the process is as smooth and successful as possible. 
Failing to Consider Real Estate
Your practice is valuable, and so is the physical land it's resting upon. When selling your veterinary practice, are you also selling the land? Veterinary practices that lease the land they reside upon may find it difficult to locate an eager buyer. You may have to cut a deal with the new owner of the practice depending upon your real estate situation.
Not Reassuring Your Workforce
It's incredibly stressful to sell your practice – after all, it could represent the culmination of your life's work. What many veterinary leaders fail to remember is that this can also be a pressing time for your workforce. Ensure your veterinary professionals are being listened to during the sales process to keep morale high across the practice. 
Inadequate Retirement Preparation
Selling your practice doesn't necessarily mean that retirement is around the corner. Nevertheless, many experienced veterinary leaders who decide to sell do so because they're ready to finally settle down for good. 
Failing to adequately plan for retirement, which involves not only financial planning but also serious changes to one's personal life, is a costly mistake to make. 
Failing to Adjust to the New Status Quo 
Some veterinary practice owners sell their business to a third-party but continue to work at the practice afterwards. This can generate some serious stress, especially if a former practice owner continues to act like they're in charge in the aftermath of the sale. 
When selling the practice, always come to clear terms regarding future employment. Make sure that both sides of the agreement understand the terms of a contract before it's signed. 
Trying to Save on Attorney's Fees
Lawyers are expensive for a reason – they provide a valuable service. Trying to save money by eschewing legal assistance when you sell your veterinary practice is a terrible mistake. Invest in excellent legal counsel to ensure your deal is held up in the long run if you want to avoid financial calamity. 
Documents that are Essential to a Successful Practice Sale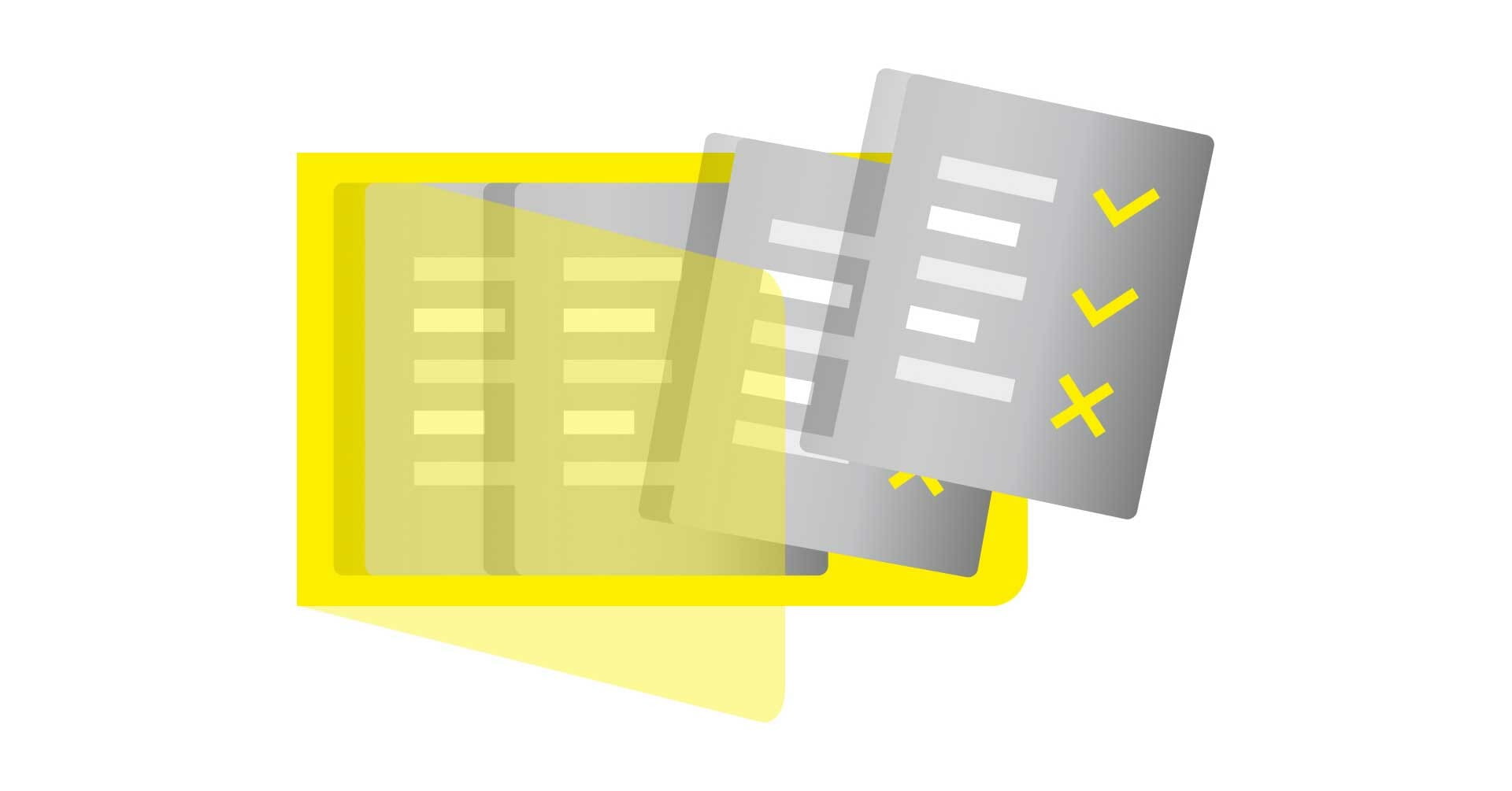 Veterinarians are healers, not salespeople. That's why it's easy for them to get taken advantage of or low-balled in a practice sale. As a way to protect yourself and make sure you are being dealt with fairly, there are three documents that you should insist on during the due diligence and negotiation processes. These include a letter of an intent, a non-disclosure agreement (NDA), and a sales agreement. Let's go over these documents and outline what you should pay attention to when signing each of them.
The Term Sheet or Letter of Intent (LOI). This document outlines the agreement that both seller and buyer expect to make and establishes the terms of the deal. You can think of it as a draft contract framework. Here are some key points that the letter of intent should.

Lock-in the purchase price. Leaving it vague invites the buyer to try to finagle a lower offer during the due diligence. Allow some leeway for minor negotiations, but stand firm on the minimum amount you're willing to accept.
Stipulate that the amount in full will be paid to you after closing. Try not to accept payments over time if possible. The seller may not get paid in full after closing due to the partnership model, earnout, or seller financing. Even though these reasons have an upside, they carry certain risks for the seller.
Pay attention to the employment terms, as failing to agree on those can complicate the deal further.
Have your attorney review the LOI. It's better to invest the time and money upfront than to discover deal-breaking surprises at closing.

The Non-Disclosure Agreement (NDA). Protecting the seller's confidential data is essential as the deal involves sharing such information between parties. For this purpose, you and the buyer should sign a mutual NDA.

Make sure that the document covers everything that you want to protect to ensure your confidential data will not be disclosed.
Seek a long-term NDA. If the buyer will not sign an agreement for an indeterminate amount of time, at least try to make sure that both parties will not disclose any confidential information for a few years.
If negotiation fails at later stages, ask the buyer not to solicit your employees for a set period as the buyer may obtain their contact information during the due diligence process.

The Sales Agreement. Generally, this is the final agreement between parties, before closing. This agreement comes in three forms: an asset purchase agreement, a stock sale agreement, or a merger agreement. Regardless of which form is involved, it includes various vital provisions and you should carefully review those with your lawyer.
Representation and Warranties. This is a standard clause of all sales agreements. Representation attests that you have been honest about the practice you are selling. It is what you say it is. Warranties means that if what you have described turns out to be false, the buyer has some recourse.
Tips to Help You Handle The Sale Process
We understand that preparation for a veterinary practice sale takes time and effort. That is why we asked our co-founder, William Griffin, for tips that you, as a practitioner, should focus on or consider before selling veterinary practice. As a former practice owner and co-founder of Pathway Vet Alliance, Bill has a unique perspective on practice sales.
Get outside advice. Talking with your accountant or a financial planner is one of the first and most significant steps that you should consider. First, your adviser will help you to evaluate how much money you will need to live comfortably after selling and we explain why it matters below. Second, they will help you understand what to expect as the sale progresses and afterwards. In addition, expert financial advice may help you to minimize tax consequences, as well as future liability.
Take care of your finances.

A potential buyer will want to see your financial statements.

Those interested in buying a veterinary practice without reviewing its financial history should not be considered legitimate business partners.

As standard financial reports do not reflect profitability, focus on determining EBITDA correctly. This will not only reflect the most accurate numbe

r for the seller but also can help you to improve the practice's performance.

Deal with the corporate records. Pay extra attention to this point if you sell your practice as a stock or asset sale, or incorporated practice (limited liability company). Make sure your corporate records are up-to-date, including documents associated with forming the company, bylaws, business licenses, and minutes of all board meetings.
Have an idea of who you wish to sell to. Finding a potential buyer may be difficult if you do not establish a network of prospects in advance. Building long-term relationships with other veterinarians can be useful as you will be able to choose the buyer who has similar values and vision as you do. Also, being familiar or having an established relationship with the buyer will most likely minimize the stress when you sell your veterinary practice. Talking to people at conferences and trade shows is a good place to start.
Be careful with the contract. Once you sell, most of the time, it's considered a done deal, which means you cannot change your decision after you sell. That's why you need to decide what role you want to assume after the sale.
Conclusion
If you want the best outcome from the sale of your veterinary practice, it's best to start preparing well in advance. Matters such as finding a potential buyer or optimizing your practice can take more time than you think. Even though the process is complex, following all the steps and addressing issues in advance will result in a much more rewarding sale — more profit for you and the peace of mind that your hard-earned practice has been handed off to the best possible successor.
Now that you know how to sell a veterinary practice, you must ask yourself the hard question of whether you're ready to make this important decision. Understand that this decision is your responsibility and give yourself ample time to think things over before making a final choice.
If you have other questions, this article provides additional resources for selling your practice. While this can be an involved transaction, there is, fortunately, a wide array of information available to help make the process smooth and straightforward.
You worked very hard in building your business and preparing it for sale and you should enjoy the reward of a deal well done.